One Comment
Mr. Grace: A Life in Transition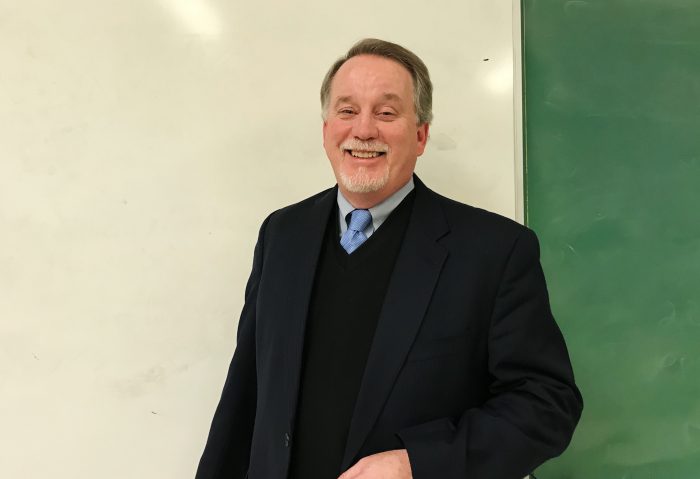 Sofia Santos | On 09, Feb 2019
As I sat down with Mr. Grace after his long day of lecture and lesson, he pointed out I seemed nervous. Admittedly, I was, as I had never interviewed anyone before – and for my first, I had selected a subject who has earned a Bachelor's Degree from Columbia University, has extensive experience on Wall Street, has been on a school board for 10 years, has run for town district for the state of New Jersey, and more (to say the least).
After covering a variety of topics, from classroom dynamics to his relationship with Irish dance, I left the talk assured of this: Mr. Grace has an undeniable passion for education, civics, and darts.
Standing on Both Ends of the Classroom

"I've always taught. It's just something I've always done."

-Mr. Grace
Ever since high school, Mr. Grace had been active in church, running seminars for youth groups and teaching all things theology. Outside the classroom, he also held his own tutoring business for all those exams that you should very well be concerned about if you intend to pursue finance.
It's often speculated among students that Mr. Grace should be teaching at a college instead, given his particular style, and to that the simple response would be that he already has. He used to TA at Sussex County Community College, while still being enrolled as a student at Upsala College.

Along with being a teacher, he remains just as diligent a lifelong student.

"From Upsala, I went to the New York Institute of Finance for five years. So I worked in the morning and went to class at night, and then came home and raised a family," Mr. Grace said.
Though his words flowed seamlessly, the reality played out in contrast. Both the 2008 economic crash and the tragedy of September 11 proved tremendously impactful not only on the course of history, but also in Mr. Grace's personal life.

"I couldn't transfer but eleven credits from community college back I had from high school. I had to start all over again," Mr. Grace said. In the calamity, all of his transcripts had been lost – basically, on paper, he never took classes from Upsala nor NYIF. Having a teacher forget a grade that could boost up your GPA is frustrating enough, let alone having years of records erased.

Mr. Grace expressed the hardship he endured when colleges would not accept his work experience, despite the career he had already built. Additionally, his place in the job market and Wall Street were not at their peak performance, to say the least. Earning years of credits back in school was what he had to do:

"It was a difficult pill to swallow – I had the realization that I wasn't going to get anywhere without going back."

After a year and a half of "getting over the hump," Mr. Grace managed to get back to college, ending up with a B.A. from Columbia University in political theory and international relations. Columbia University is an Ivy League school in New York with a 7% acceptance rate, so this was perhaps not too shabby a recovery.

Teaching Is Not that Different from Wall Street

As Mr. Grace is well-versed as a teacher and financial wiz, I was curious to know what he had learned from both; I quote myself, "seeing how they are kinda different." Mr. Grace was eager to tell me that teaching and all things Wall Street were in fact not as different as people (i.e. me, through my question) might assume.

"I'm a full believer that everything is always interconnected," he began, "that there's a connection someway, somehow, and it's just about finding that connection. In essence, the connection that I know to be true is that nothing's ever the same twice."

With philosopher as permissibly his third occupation, Mr. Grace touched on the concept that a river is always changing, as you and your surroundings are (much more substantial than my wording, but loosely the idea). In his book, it applies to both the dynamics of trading on Wall Street and getting students to keep their heads up.

In trading, as he eloquently delved into, there are a multitude of variables to consider in the market, and ultimately no single solution or handbook to per se solve it all. It is mathematically impossible, he firmly stated, to account for billions of circumstances that pop up: "If quant worked, it would've by now."

Additionally, looking at the job from a "chasing the dollar" perspective was never Mr. Grace's thing.

"I never approached it from the profit side. I never tried to make money. What I approached it as was more of, 'How do I not lose it?'"
How much risk are you capable of handling? In such an unpredictable field, understanding inevitable change and managing situations as they unravel is how he went about it.

The awareness of constant change and managing that change comes in extremely handy in his own classrooms.

He spoke about teaching with obvious genuine passion, with delight and curiosity. Lesson plans that seem to work last year, he would observe, may not work at all this year. Having read extensively on different methods, on top of observing his peers and incorporating their styles, he's come to understand that there is no one set of values that sets it all straight. Respective to trading, nothing is the same twice.

"I know when I'm losing them. You can see the heads start to go down, and that's it," he dad-laughed. "It's a work in progress." Regardless of not knowing exactly what the next class would bring, Mr. Grace ensures that he is prepared, always reading up and working on his part the night before a brand new day.
Once Again, Your Voice Really Does Matter

The word 'politics' can invoke a range of emotions in many different people, from I have very strong opinions toward this particular thing to Wow, I have no opinion or feeling toward this particular thing. Whichever it is, everyone does has a say, and can have that say because of the way the system is set up. In short, your vote matters.

Why is this even here? Mr. Grace, in addition to being a teacher and financial consultant, ran for office for District 24 of the New Jersey General Assembly in 2015.

"I still lost three to one," he chuckled, thinking back. "I was a Democrat in a Republican district, so, yeah, it was a little difficult."
His plans for the state, however, did gain widespread support from the New Jersey's Teacher Association, the Princeton Economic Council, and a lot of "pretty hard-core tea party Republicans" themselves.

"I won all the debates. I was the only candidate endorsed by a paper in around 50 years up there, so I do take a lot of pride in that," Mr. Grace added, a hint of nostalgia and satisfaction in his voice.

In addition to running for office, he was on the school board for 10 years. He was also (also, also, also!) on the state committee to congress as a lobbyist for education, which required essentially knee-deep work into analysing the workings of our education system. Needless to say, Mr. Grace has perhaps earned the right to know what's up politically, and stressed in this interview that you do matter.

What seems like something as little as a singular vote can completely change the tides. "You just never know," Mr. Grace said.

"The biggest beef I have is the lack of education in civics." He explained that the education system has been designed in such a way to keep people uneducated of the process rather than engaging with them. At some point, he states, any sleeping bear will wake up.

He could not have stressed any more the potential, the intelligence, and the power that this generation holds. Energy like Alexandria Ocasio-Cortez', he most firmly believes, is vital and needed. Mr. Grace's political fervour goes beyond what my use of his quotations can express.

"If you band together and get educated about it, you can truly change the world."
Wrapping Up

To reiterate an aforementioned quote: "I'm a full believer that everything is always interconnected – that there's a connection someway, somehow, and it's just about finding that connection. In essence, the connection that I know to be true is that nothing's ever the same twice."

Education and civics are not different, but are very much connected. The day to day in a classroom is easily comparable to the day to day in Wall Street. He has been a financial consultant to teacher to school board member to professional dart thrower ranking in the top ten in all of the United States (a subject worth its own headline).

Mr. Grace's seemingly independent endeavors are all intertwined and loosely laid out here in such a way that we can all ponder upon – not in the invasive manner, but more in the reflective sense.

As a teacher of a plethora of subjects, I made sure to ask what was one thing he would want to teach to his students that he could not put a grade on.

Without hesitation, he said that he would want them to know that "they are loved, period." He believes that the students have incalculable valuable: "If we are made in God's image, and he is pure love and truth, then each and every one of us are supposed to be here."

Spoken with sincere confidence and grace, Mr. Grace articulated into words the genuine caring sentiment for every single one of his students that all our teachers have or should have rooted in them.

So next time when talking to your teacher, or anyone for that matter, know they have limitless worlds you do not know about – and from there, just imagine what you could learn.