No Comments
Student Council Welcomes Class of 2020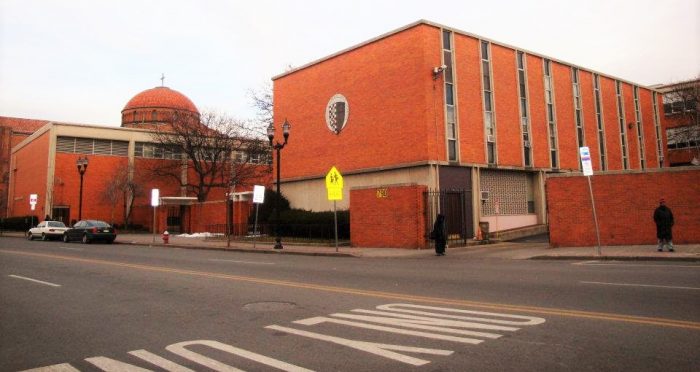 The Commentator | On 09, Sep 2016
Dear Hudson Catholic Class of 2020:
Welcome to our Hudson Catholic family!
We are the 2016/2017 Hudson Catholic Student Council. A few years ago we were in the same position as you are today. We really didn't know how we felt about starting high school. While we were excited about making new friends and learning new things, we were also very nervous about finding our way around and trying to stay out of the way of upperclassmen. We knew the work would be difficult, so we were dreading that. But we also knew that there were so many extra-curricular activities that we could get involved with and have a blast. All these feelings built into one confusing emotion. Knowing what we know now, though, there really isn't much to be scared about!
Listed below are a few things we found helpful throughout our first year at Hudson Catholic:
Remember, you are not alone. There are about 120 freshmen in your class experiencing what you are experiencing this very moment! Although you may feel a million different things, just remind yourself that there are people that are feeling the same way. Brush those feelings aside and put a smile on your face!
Don't be afraid to make new friends. There are many people who share the same interests as you and are seeking those who share that interest. Sometimes you may have nothing in common but the desire to make friends! Remember, there are plenty of teens out there in this same situation.
Join an interesting club or sport. High school is the time to try new things, and luckily our school has so much to offer! There are so many clubs to choose from, like the Art Club, Board Game Club, Mock Trial, Spanish Club, Biology Club, Technology Club and so many more! Our school also offers a wide variety of sports, such as swimming, tennis, football, volleyball, soccer, baseball and more! So if you've always wanted to give tennis or soccer a try, now's your time to do it! Joining a club or sport is also a great way to meet people!
Don't be afraid to ask questions. If you do not understand the material, ask your teacher. Our teachers are here to help you. Chances are, there are others who also don't get it and are silently asking the same question. They'll be glad someone spoke up! If you are having any kind of difficulty, you can also set up a time before or after school to meet with your teacher. Remember, they are there to help you!
Upperclassmen really aren't so bad. We may look super intimidating, but we were in your same position just a few years ago. We understand how you feel. You can always go to one of us if you have a question about anything. Plus, we make pretty great friends.
Doing homework really benefits you. Sure, sometimes it may seem like busy work, but it's only making you better! You need to be devoting a good amount of time on your homework. Plus, if you do it, you will get way better grades and relieve a lot of stress off your shoulders.
Get involved and take part in school functions. Lucky for you we have so many events coming up like the Pep Rally, Homecoming Dance, School Spirit Week and so many more fun events. Make sure you join us for these fun spirited events.
Lastly, have fun (but study, too)! We cannot stress this enough! High school is supposed to be one of your greatest moments in life! Live it and love it to the fullest everyday!
We have all LOVED being high school students here at Hudson Catholic! We have made wonderful friends and learned so much, now we wish the same for you! If you ever have any questions or concerns, please feel free to contact any one of us, we are available 24/7!
Hudson Catholic Student Council,
Lisbeth Rodriquez, President
Dana Picinich, Vice-President
Gio Marmora, Treasurer
Isabel Ventimilla, Secretary
Arlette Huesca, Secretary