No Comments
Lady Lucas-McGady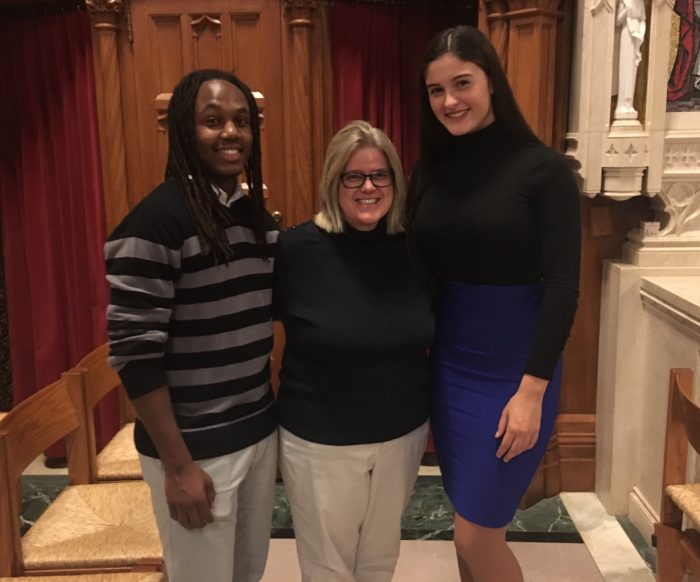 Anthony Del Monte | On 18, Nov 2016
Even though Hudson Catholic Regional high school has seen many new faces this year in faculty, there are still many teachers who have been here over many years to watch the school grow. The Commentator got a chance to have a talk with Mrs. Debra Lucas-McGady.
Although Ms. Lucas-McGady has been here for a while, she wasn't always a high school science teacher. She previously worked in a laboratory.
"Working in a lab, a cell and molecular biology lab, we were the beginning of a drug development process."
One may wonder how she made the transition between two very different careers.
"Difficult," Lucas-McGady answered. "I was used to getting results right away; now I have to wait a couple of years to get the results in the students, [but] they appreciate me in the rear view mirror."
Everything comes with its own set of pros and cons. According to Ms. Lucas-McGady, the positives of teaching include interactions with students and watching them  grow from freshman to senior year, while the one negative is the amount of paperwork.
Lucas-McGady has one main goal to accomplish during this school year. "To make my Biology II class successful," she said.
Interestingly, it is well known that Ms. Lucas-McGady goes on many vacations to many different places with her husband, Mr. Frank McGady. Her favorite was her vacation to Paris, France, where Mr. McGady proposed. Amour!
Be sure to stop by the biology lab if you need any help or guidance from the very welcoming Ms. Lucas-McGady.