No Comments
Hawks Boys Basketball Wrap Up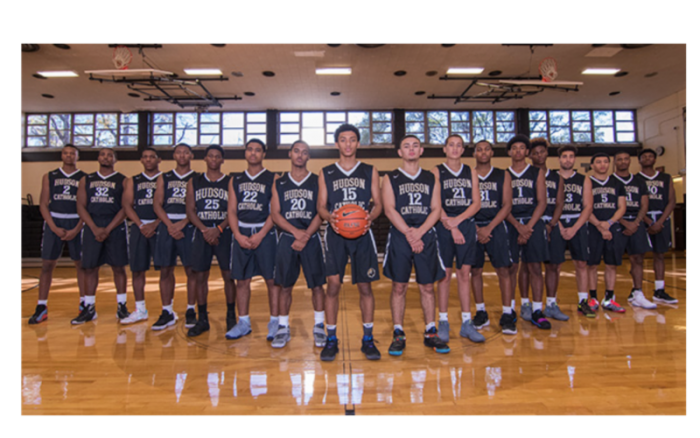 Ian | On 08, Mar 2018
Going into the 2017-2018 basketball season, the Hudson Catholic Hawks were ranked 4th overall in the entire nation and 1st overall in the state of New Jersey. They had a great season last year, winning the state section title over St. Anthony's. The Hawks had a lot of pressure and a tough schedule ahead.
This season, the Hawks had six leading seniors–William Brown, Shackylle Dezonie, Precious Idekiashi, Louis King, Luther Muhammad, and Jahvon Quinerly. The main goal of the team was to capture the school's first ever New Jersey Tournament of Champions (TOC) title.
Unfortunately, they did not accomplish their goal after their season was ended short due to an upset by Montclair Immaculate Conception in the quarterfinals of the State Tournament.
The Hawks ended their season with a great record of 21-5, with losses only coming from top ranked teams such as McEachern, Oak Ridge, St. Benedicts, and Cardinal Hayes, along with their season-ending loss to Immaculate Conception.
Even though the Hawks did not capture the TOC title, they definitely proved why they are one of the nations best high school teams.
Along the way, social media has followed the team covering the hawks on all platforms giving them exposure.
When one door closes, another door opens. The future for the Hawks is looking bright with a lot of returning key players. Juniors like Todd Coles, Jonathan Delgado, and Daniel Rodriguez will be returning, along with sophomores Patrick Liggins and Jaden Quinerly. Freshmen Shane Dezonie, Justin Glover, and Tristan Jeffries will also be returning. Hawk fans do not need to worry about a losing season!
The season was a blast! Hawk fans definitely had a great time watching the team play because every game was almost sold out. Seniors will be graduating, and continuing their basketball and academic careers at their new colleges. The team had fun on the court and bonded as brothers off the court.