One Comment
Ambitious Amarrie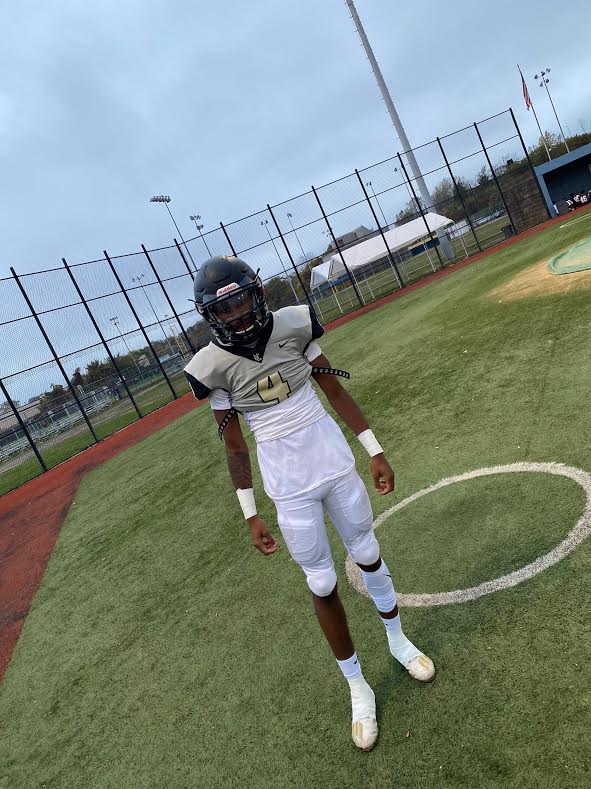 Erin Holloway | On 01, Dec 2020
Hudson Catholic senior, student-athlete, football wide receiver and safety Amarrie Bolden has a mindset of a fighter and has the utmost dedication to the sport he loves. With multiple outstanding performances during the football season, receiving 430 yards, Bolden stands out from most other players and possesses a unique mentality and emotions that are shown through his talent and excellence in the sport of football.

"Something that makes me stand out is my ambition," Bolden explained. "My strive for success helps me surpass the next man. I'm
going to achieve my goal before you, because I'm going to outwork
you."
While his strive for greatness is powerful, the player has had times he wanted to give up, but continued to push himself forward throughout challenging times.

"When my brother passed it was hard finding motivation to keep going because he was my motivation," Bolden shared. "I knew he would want me to keep chasing my dream, so giving up wasn't an option."
As this was a difficult subject to discuss, Bolden continued to share his story. He believes things would've been different if his brother were still here today.

"I think having him by my side, I wouldn't have dark days," Bolden said. "Losing him made me appreciate family so much more. When I lost him I was in a dark place, and couldn't find purpose for anything but after a while that's what fueled me. I started to work harder and this made me mentally stronger."
Bolden shared more information on his brother and the touching relationship they had to football.

"My brother was my hero. He was the one who put the football in my hand, so my love for football connects to my love of my brother and that's why the game means so much to me. In the game on Friday against West Side when I got hurt, it scared me. I thought I was done. I thought to myself, 'I lost my brother. I can't lose football either.'"

It's apparent that Bolden has a deep passion and reasoning behind his football career. The safety and wide receiver believes football is worth more than the pain experienced, the sweat and the tears put into it.

"It's not about football," Bolden stated. "It's about paying back my mom for all the years she put her blood, sweat and tears into providing for us. It's worth every hardship."

Now a senior in high school, football has seemed to have made a great impact throughout the star player's four years.

"School football is helping build a structure as I embark on the next four years of my life," Bolden said. "I see it as a test. If I already passed the first four year test, I know I'm ready for the next four year test. I got to be a part of a brotherhood, being in class with the guys. I get to go out Friday and playingwith them definitely made school better. Football made me this confident person I am and I wouldn't be me without it."

Where does Bolden see himself in five years?

"I haven't given that much thought about it," he admitted. "I'm trying to
be where my feet are, and live in the moment."
Bolden believes if he came across someone who didn't know him and he told them his story, they would have a clear perspective after hearing his journey.

"They would see a young man trying to take his rainy days and turn them into clear skies," he said.
Bolden shared one final piece of advice with us:
"Set a goal that's beyond measure and achieve it. Bad days don't last forever, so find the good within [them.]"