No Comments
Xochilt Turijan Feature: History in the Making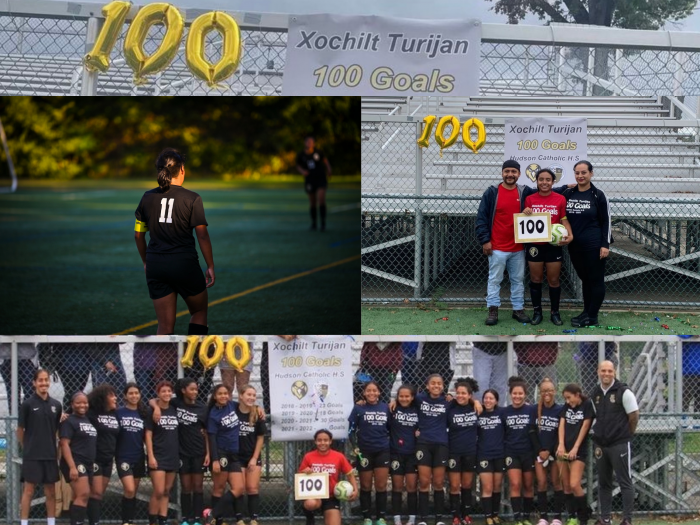 Sheila Perez | On 04, Mar 2022
Xochilt Turijan, a 18-year-old Hudson Catholic Senior, is one of New Jersey's top leading scorers. She has added another accomplishment to her list, being the first woman and first soccer athlete to hit 100 Goals at Hudson Catholic. "It was a huge achievement and I've been wanting to accomplish it since my Junior year. That was when I hit my top state leading score, it motivated me to keep going to reach 100 goals" says Turijan. "My Coach [Victor Perez] was a big part of my journey, he pushed me to keep going and encouraged me that I can do it with determination and focus. It feels like all my hardwork has paid off," She added
As a freshman, Turijan was already known for her talent in soccer, so it was not shocking news to her friends, family and peers that she would be making history. "During my freshman year, it was not a thought [hitting 100 goals] because during that year our team was not as good as we are now, we won several games but the loss was greater than our wins," says Turijan.
Turijan explained how Hudson Catholic changed her life, "Hudson Catholic gave me a once in a lifetime opportunity. At first, Hudson was not my first choice but I don't regret it either because of all the opportunities I got being a student-athlete," she says.
The women's soccer team got better during Turijan's second year playing. "Sophomore year was our best season [in my opinion]. It was that moment where I knew I could do this. I saw potential in how our team and myself can progress, " Turijan explains. Her team also made an impact on her by pushing her limits in soccer. "My team helped me and backed me to achieve my own personal goals throughout the season," She added.
With her greatness in soccer, it came with a lot of doubts, anxiety and pressure. "There were a couple of setbacks during the season where there will be days that we are undefeated and there will be days that we are doing bad [out of nowhere]. As a captain, my team looks up to me. A bad game is a big downfall for me because of the pressure of letting my team and others down," Turijan explained. During her last year, it was when she was getting challenged, "My senior year, I knew I wanted to achieve it but there would be games where we would have back to back losses. I was paranoid and was counting how many goals I should make each game. I was not enjoying it at some parts due to pressure and it got into my head. In the end, my hard work paid off," Turijan added.
Turijan gets her motivation from the people around her and herself, "I wanted to prove to myself that I can do this despite people talking bad about me during the game. I used that as a motivation to fully bring the best out of me," Turijan says. "And of course, my team, my friends and my family are my motivation. My team was like a second family to me, we are all close to each other and have each other's back. We do everything as a team. It was a blessing to also have my sister [Jazmine Turijan] with me on the team, she was a big part of it. She was one of the ones that picked me up when I was going down and gave me words of encouragement," She added.
"To relive and see the accomplishment. My coach let me keep the ball we used during the game and one of my teammates' mom [Zoe] put it in an acrylic box with an engraved plate that says my name and the date when I hit my 100th goal" Turijan says.
Turijan is one of the best student-athletes Hudson Catholic has ever seen. Hudson Catholic is very lucky to have such an inspiration for young adults who want to pursue soccer. She is a definition of a student-athlete as she is part of Hudson Catholic's dual enrollment program and had straight First Honor Roll her entire 4 years at Hudson Catholic. There's no doubt that she is the GOAT.