No Comments
Explore NYC with the Photography Club!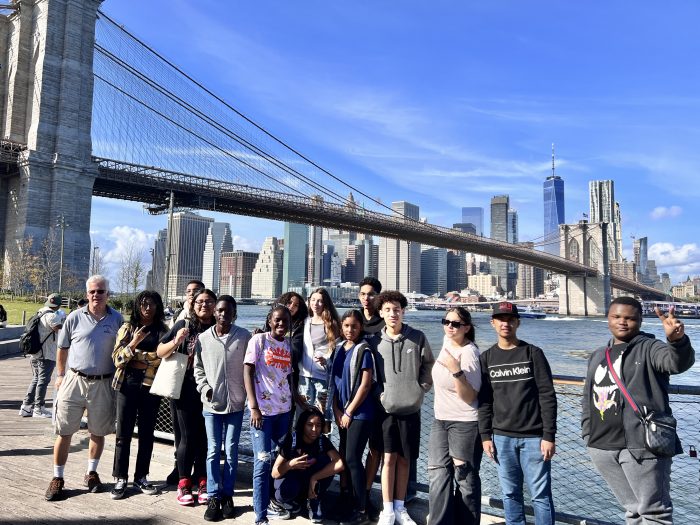 Andrei Fernandez | On 18, Jan 2023
In my opinion, one of the main benefits of living in Jersey City is being so close to New York City. Just $2.75 on the PATH train will bring you to all the acclaimed art, culture, and food you want. It was on a Saturday of this past November that I experienced all of those things with Hudson Catholic's photography club.

On November 5, Mr. McGady, Mr. Hernandez and 14 students including myself walked down to Journal Square Station to catch a train from Newark Penn Station to World Trade Center. Soon enough, we reached street level at the World Trade Center PATH station where Mr. McGady provided us our first photo opportunity. It was one he showed us before in the Photography Club, the One World Trade Center standing tall, but slightly blocked by the sweeping white, rib-like tails of the Oculus building.

When we arrived at the Brooklyn Bridge, our main attraction of the day, Mr. McGady explained the cables of the bridge. He said there's more than needed for capacity, but the designers had them anyway to convince the people of 1883 that it was safe. For lunch our group got pizza at a restaurant called Ignazio's that had a great view of the Brooklyn Bridge's underside. After that we began our journey back to the WTC to travel back to campus, learning even more from Mr. McGady along the way.

When I left the group at Journal Square, I checked my phone and discovered we walked over 10,000 steps that day. It's safe to say I definitely burned off that pizza and Coke. Looking back on the day, I was again reminded of just how lucky I am to live near a city like NYC. It's historic, tasty, and just plain exciting to go to.

When you have an opportunity like this, you have to take advantage of it. Luckily, the Photography club is planning another NYC adventure that will take place near the end of January. This time we will be visiting the beautiful Saint Patrick's Cathedral and are sure to experience even more learning and photo opportunities along the way! Make sure to look out for details coming soon!