No Comments
Letters from the Senior Editors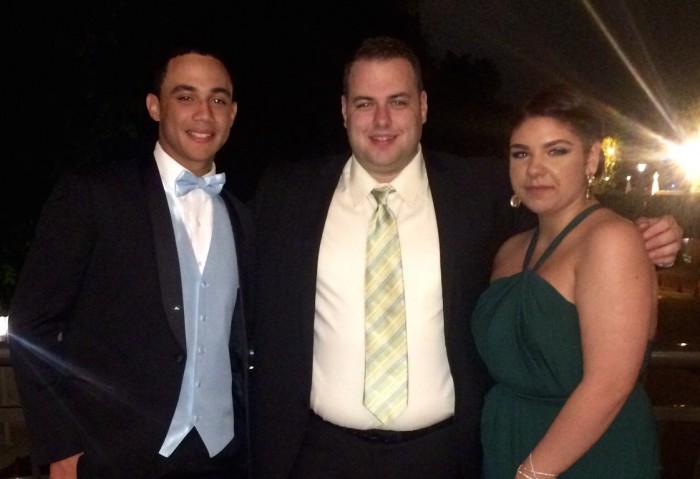 Isabella Bozkent and Samuel Tuero | On 23, May 2016
Who would've thought that Journalism would be the best class of the year? School has never been my forte, let alone writing, yet this year something was different. I signed up for Journalism expecting another basic course about how journalism started, learning about the history, and then writing only those articles assigned to us. But after the first few weeks of class, after we had learned about a little of the history and had done some creative writing to get our brains thinking, we were assigned our first editorial. We were told that whichever ones were the best would be published on none other than The Commentator. I didn't know at that moment that it was the beginning of something incredibly special.
What's happened over the past few months has been nothing short of unique. As I kept writing, I felt as if my voice was only getting stronger, whether the piece be about global warming, a school event, or a movie review. It felt out of the ordinary for someone who used to loathe writing. At first I thought I was the only one who felt this way, but when I started to read some of the other articles posted on The Commentator and hear people speak in class, I knew I wasn't alone. Mr. Bongiorno did what most teachers have only dreamed of and reignited that passion to have our voices heard. Whether or not my fellow classmates know that yet is on them, but it's clear that there has been a significant impact, and it's evident in the quality of the writing.
Unfortunately all good things must come to an end, whether we want them to or not. It's hard to accept that soon this will all be over. The experiences I've had over the past few months have reminded me just how much I take for granted. It got me thinking about the future. Very soon I'll be in college, and I won't come home to my parents every day anymore; my friends and I will all be in different places, and I will be fully independent for the first time in my life. Not only will I have to get through all of that in a short time, but I will have to let go of the little things too: letting go of The Commentator will be one of the hardest.
Time flies when you're having fun. I never would have expected Journalism to be a class that I enjoyed so much. Learning how to write in a whole new way opened my mind up to possibilities I didn't know were there. From the most sincere part of my heart, I really am going to miss being able to write and work for The Commentator.
This experience would not have been what it was if it were not for my close friends and classmates. I'm going to miss coming in every day and being able to talk about real world issues and then write how I feel about them. Though what I will miss the most is working with the people who were with me every step of the way, I won't go naming names–this isn't the Oscars. You know who you are. However, I do have to give a big thank you to Mr. Bongiorno for not only bringing The Commentator back, but also for being able to show the students that we have a voice and it can be heard through good journalism.
I want to finish this piece by saying you never know what you will become until you go out there and experience new things with new people, and man was this one hell of an experience with some great people. I would like I say thank you, be safe, and always remember that when you're in doubt you can always write it out. I promise you someone will read and someone will listen. It only takes one.
Sincerely,
Samuel Tuero
The Hudson Catholic Commentator
Senior Editor 2016
—————————
Today my high school career reached its end.
For the past 4 years, I talked about this day as if the burden of being a high school student would finally be lifted off my shoulders. I talked about this day like it would never come..but at last it has.
Saying goodbye to all my friends and teachers was much more bitter than the sweet I anticipated it to be. After all, these were the people who helped me to grow into adulthood. Although the years went by quickly, most days seemed like they would never end. Highs chool was full of hardships, growing pains, and tears. Many many tears. Not a single one I regret. I've learned so much about the person I am and the person I would like to be.
Many people enter high school with some sort of passion or interest in a certain sport or club. I spent my last 3 yearsdrifting from thing to thing in search of my passion. Selecting the journalism class for my senior year was one of the smartest things I have ever done. Being a part of the newspaper gave me an outlet for my thoughts and opinions. It also allowed me to be part of the Hudson community while using my voice to bring attention to our wonderful Hawks' nest. It also was a great privilege to have Mr. Bongiorno as a teacher and moderator. He made something like being a part of a school newspaper enjoyable and educational. He is a great addition to the Hudson family, and it's very saddening that I only had the opportunity to be his student for just this year.
I want to thank not only Mr. Bongiorno, my friends, family, and all the teachers of Hudson Catholic that have had me as a student the past 4 years, but also my co-editor Sam Tuero. The newspaper allowed us to become good friends. For a while I had figured we were two very different people, but I soon realized that we see eye to eye on many topics. He seemed to be the only other person who enjoyed being a part of the newspaper as much as I did.
For years I've been saying that Hudson Catholic was the source of all my teen angst and problems, and now I finally see that it was my solution all along. Hudson Catholic is where I have laughed, cried, lived, loved, found a passion, and made many lifelong friends. Thank you to all those who have supported me and those who have supported The Commentator. I hope that support will continue in the future, and I wish the best of luck to my fellow classmates and Mr. B. I look forward to what the new editors have in store for the years to come.
Sincerely,
Isabella Bozkent
The Hudson Catholic Commentator
Senior Editor 2016