One Comment
The OG of the HC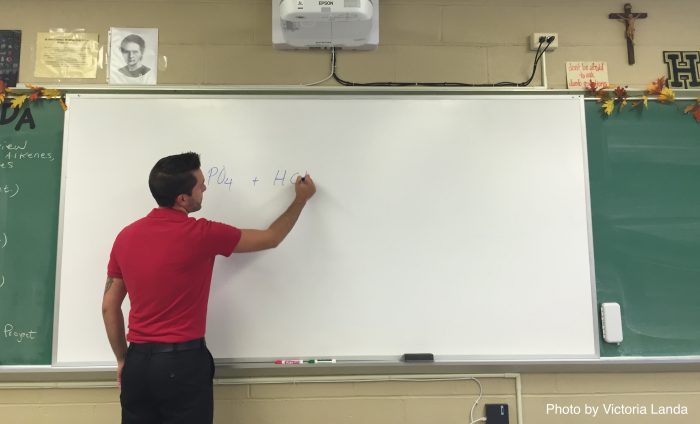 Victoria Landa | On 03, Oct 2016
The Commentator jumped at the opportunity for an epic meeting with our school's resident "Savage of Science" for an exclusive interview.
Our own Mr. Anthony Marmora was born and raised right here in Jersey City, NJ, and before becoming a teaching legend, Mr. Marmora was a teenager behind the very same desks of Hudson Catholic in which we students sit today.
But what was Mr. Marmora like as a Hawk? "I was always top of my classes and I always made sure that academics were most important, but I also had a social life and went out with friends," he said. On top of his studies and time with friends, he also worked full time at a neighborhood deli.
But Mr. Marmora discovered his love of science before he ever got Hudson Catholic. It was sparked in his 7th grade science class, taught by his favorite science teacher, Mrs. DeMan. Mr. Marmora liked her because she was strict but made science a lot of fun. Sounds familiar, huh? Obviously Mrs. DeMan was quite influential.
Two Hudson Catholic teachers, Mr. Gazzale and Ms. Schreiber, also motivated him to pursue his current career, and after high school he knew for sure he wanted to teach science. Mr. Marmora graduated from Manhattan College in 2012 with a degree in secondary education with dual concentration in biology and chemistry.
This is Mr. Marmora's fifth year at Hudson Catholic and all of his teaching experience so far has been here. The Commentator asked him what it is like being co-workers with teachers who were once his own. Marmora responded, "It's a lot of fun because I get to see a different side of them. I was always very cordial with my teachers as a student, and now that I'm on the other side of it, it just made the transition more seamless.''
Would Mr. Marmora ever choose a different career? "No," he replied confidently. "I love teaching. Every day is a new day and every year I get to start fresh with new students."
When asked about his favorite chemist, Mr. Marmora cited Marie Curie without hesitation. "Aside from all the groundbreaking things she's done in chemistry, a lot of what she's done in nuclear chemistry set the foundation for more field study in atomic structure and quantum theory. A lot of science we know is because of her," Marmora said.
Saving the most important question for last, The Commentator pressed Mr. Marmora on his favorite drink from Starbucks.
"In general, just a hot black coffee," he replied–the interesting chemistry of chemistry teachers!