No Comments
Nassir Barrino On Leaving A Legacy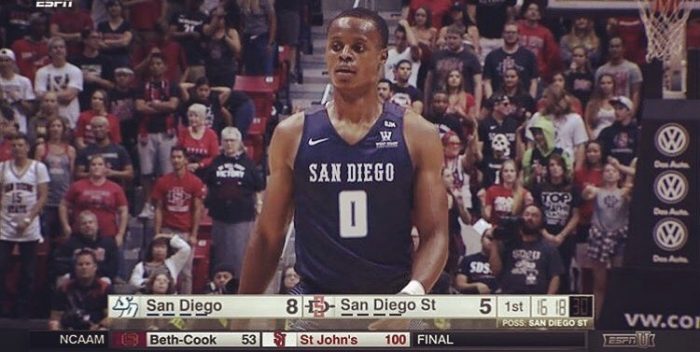 Raquel Garner | On 29, Jan 2017
After scoring 1,000 points during his senior year at Hudson Catholic Regional High School, this athlete is making big moves in his basketball career. Nassir Barrino, graduate of 2015, sits down with The Commentator to express his gratitude and his plans for the future.
When Barrino left Hudson Catholic he made a very tough decision to attend a prep school instead of going to college. He made this decision so he could focus on school and the sport he loves.
"I wanted to go to prep school to better my college recruitment," Barrino said.
His love for basketball caused him to want to continue his career at a higher level.
"I wanted to continue to play in college because I love the game and it's paying for my education," said Barrino.
On April 13, 2016, after years of hard work, Nassir Barrino made the biggest decision of his life, committing to the University of San Diego. All of a sudden, a kid from Newark was making it big across the country in California.
"It felt great," Barrino said. "It was a relief on my family and I. I knew getting out would help my younger siblings want to achieve and experience more."
With such a huge change in environment, The Commentator asked Barrino how it feels to attend the university of San Diego and to make such a huge change in his life.
"I feel good. It definitely feels like home. I can relate to the team, and the coaching staff is doing a great job helping me stay on the right track. The campus police is doing a great job keeping me safe, which makes me feel much more comfortable especially since I'm so far away from home."
Barrino has proven time and time again that everything he does, he does for his family. So his plans for after college are pretty simple: to provide for his family, with or without basketball.
"I plan to get a job to provide for my family," Barrino said.
As a former Hawk basketball player, Barrino had a couple of words of advice for the team this year.
"The advice I want to give to the boys basketball team is to stay hungry, humble, and work hard every day to achieve greatness! Also, to do what I couldn't do: win a state championship!"
Barrino is a prime example of hard work and dedication paying off. Staying focused and passionate is what got him this far, from the basketball court at Hudson Catholic to an area in San Diego, California. This alumnus definitely is one to keep an eye on as he continues to strive for greatness.