No Comments
Meet the New Fishies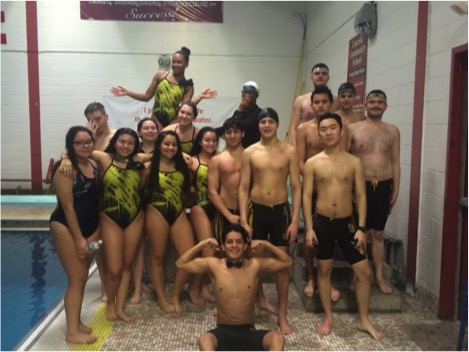 Mathew Botros | On 10, Feb 2017
As the swim team advances through its practices throughout the winter sports season, the bonding and growing together as a team improves. New captains and swimmers have commented on their expectations and experiences.
Members of the swim team include the following:
Freshmen: Dominka Filonik, David Carrera, and David Hernandez.
Sophomores: Sofie Alexander, Savannah Martinez, and Isabel Vintimilla.
Juniors: Robert Vogt, Andrea Lombeyda, Rui Hou, and Karen Alvarez.
Seniors: Chris Delgado, Sky Delmonte, Mathew Botros, Mena Botros, Jose Gosdenovich, Victoria Landa, Mandy William, and Matea Robinson.
The team is coached by Dean of Students Terrence Matthews, captained by Chris Delgado and Mandy William.
The Commentator met and talked with girls captain Mandy William. After an enthusiastic introduction of herself she expressed what she expects from the team this year.
"I see actually a lot of potential in the upcoming freshmen this year and I see a lot of potential in the future years because the seniors are going to leave," William said. "I feel like we're going to the leave the team in good hands."
When asked about her inspiration for swimming, William said her inspiration was her older brother, Andrew William.
"I've been swimming since I was young," William said. "My parents actually put my brother in the sport and then they put me in it, so they could just get rid of us at the same time," William joked. "But I actually really do enjoy the sport and I hope I'm pursuing it in college."
The Commentator also met and talked with the senior boys captain Christopher Delgado, who hopes to beat two schools, eventually Hoboken or Ferris.
"This year, I'm hoping to beat two schools which are Hoboken and Ferris, I think. We actually have a lot of boys this year with a lot of potential and I'm hoping we can get through a lot this year."
When asked about what his motivation for swimming is, Delgado had a thought-provoking answer.
"My motivation? They're my friends," Delgado said sincerely. "We have to think about each other and we have to work as a group."
When asked about who he would choose as captain after he graduates from Hudson Catholic, Delgado stated he would choose junior Robert Vogt.
The Commentator also met and talked with the girls vice captain Victoria Landa, a hard-working senior with a passion for swimming.
When asked what's it like to be on the swim team, Landa responded with a thoughtful mind about swimming.
"Being on the swim team is the most rewarding experience. Every day we go into practice with a new set of obstacles to overcome and prove to ourselves what our bodies are capable of. Besides the physical aspect of it, being on a team is fun and there is never a dull moment. The swim team is another family to me. It is amazing to be on a team with people from all walks of life and we all find unity in this sport."
When asked what advice she has for anyone on the swim team and to those who want to join, Landa commented very well and was open-minded.
"For my teammates on the swim team, I would say that even though the practices can be really tough, it is important we push ourselves. Pain is weakness leaving the body," Landa said.
"Don't give up and try your best each and every practice," she continued. "For those interested in joining, we welcome you with open arms."
Lastly when asked about what exactly is the downside to swimming, Landa had mixed feelings on the topic.
"Yes and no. The downside to swimming would be the physical exertion, but like anything you have to put in the work to achieve results. When you make it to the end of a tough practice, it is very fulfilling."
The Commentator has also met and talked with Coach Matthews, who showed excitement for the interview.
When asked about the expectations for the swim team, Mr. Matthews remarked on how he has individual expectations, instead of team expectations.
"I have more individual expectations than overall team expectations and that's more due to the fact that we have low numbers than ability. I think we have some good swimmers, but unfortunately in swimming, you get points for filling lanes," Matthews said.
He continued, "So, for example, if you're in a six-lane pool, all five lanes score. So we could only put in one swimmer in a race, we can win that race, but we still lose points because the other team can fill three lanes. So that becomes a difficult thing to swallow for example our girls won seven of the eleven events against Memorial, but we lost the meet by twenty-four points. So I'm more gearing towards individual achievement at the end of the year. And I think we'll be ready for that."
Mr. Matthews added that he thinks the seniors are a "nice group."
"I think we have a nice group of seniors that can provide some leadership," Mr. Matthews said. "I think that's always important. There's kids who've been with the program for a while now and they're all important to mentoring the younger kids, and I think that we have a good chemistry on the team, which is important."
Finally, when asked about what his favorite swimming technique was, Mr. Matthews stated he liked the backstroke.
"I was a backstroker, so I like the backstroke," he said. "Any stroke when it's done well is really nice to watch, you know butterfly especially, if it's done well, is really nice to watch. I like all four strokes and I wish all my guys could do all four strokes."
So far the swimming team has competed against many schools, three of which were beaten. Come show your support for the swim team at their next counties meet on February 21, 22, and 23.