No Comments
Hawks Football Team Has Big Plans for 2017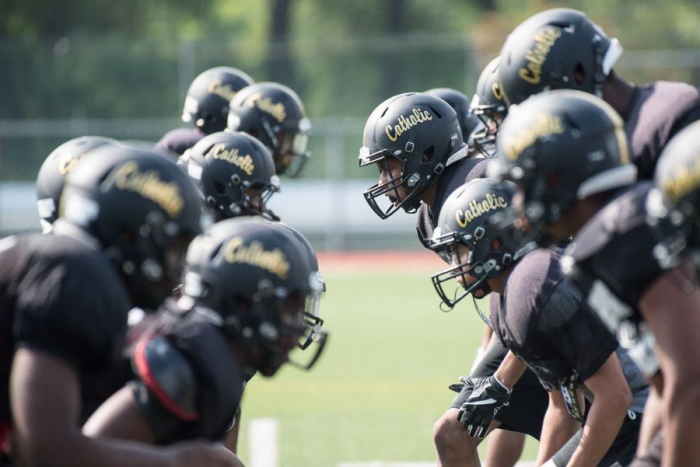 Brianna MacKay | On 19, Sep 2017
The 2016 football season at Hudson Catholic might have been considered a disappointment compared to their 2015 state championship season.
Last year they went 6-4, losing not only their last game of the regular season, but also the first game of the playoffs to Immaculata, eliminating them in the first round. But this season, they are looking to redeem themselves and get back to where they were in 2015: the state championship.
Like every new high school football season, there are going to be players lost from the season before due to graduation, and this was no different for the Hawks. From the class of 2017, the team lost key players like Khashawn Decker, who played on both sides of the ball as a corner and running back, and William Sparks-Newsome, who was a wide receiver on the team. Though they were important players, the football Hawks are confident that they have found a way to fill their roles and be ready for this season.
In fact, the the players are so confident for the upcoming season that they not only expect to go to the state championship, they also expect to win it.
"A ring season," said junior player Justin Goode when asked about the expectations for the season. "The expectation is to make it to the state championship and get a ring."
But getting to the state championship isn't going to come without some challenges, and according to Coach Chris Johnston, their biggest opponent is going to be coming up soon.
"DePaul Catholic, week four," Johnston said when asked who their toughest opponent would be this season.
No matter whom they are playing, they are confident they are going to win and make up for last season, but only time will tell if they are right. If you are interested in seeing the team play, check out their schedule below.