One Comment
A Foot Out the Door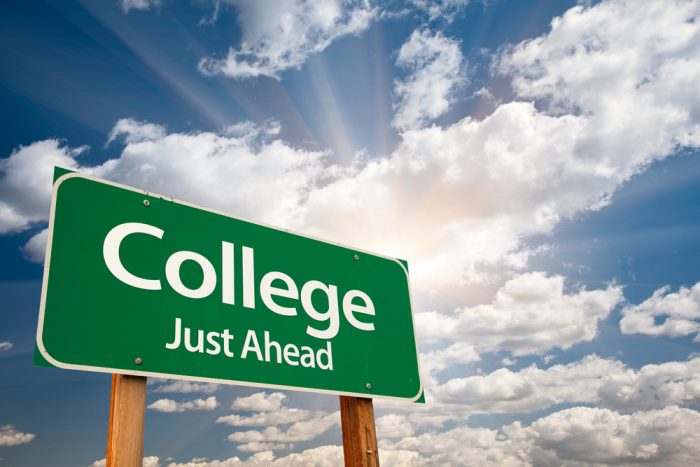 Reina Garcia | On 22, Oct 2017
The College Application Process
From the first day that you step foot into high school, you are told how important these four years will be. It lingers in the back of your mind. You are told that colleges look at your grades from the very beginning up to the start of your senior year. You have to make sure that you stay on top of your grades, but also do endless amounts of extracurricular activities to maintain the well-rounded image that colleges love to see. It almost seems impossible, but I promise you that it is not.
High school is stressful enough as it is, so college is something that students don't usually start thinking about until the summer before their senior year.
"By the time you start senior year, you should at least have some idea on the type of school that you'd like to apply to," said Mrs. Johnston when asked when the best time to start the college process was. While this is the normal time, it's never too early to start preparing yourself. With the applications, teacher recommendations, financial aid, standardized testing, and all that goes into the college process, getting ahead of the game is your best bet.
Standardized Testing
When it comes to standardized testing, you should be used to the process by the time you get to high school. Test scores are important, but they are not the only thing that schools look at. Standardized testing is not always the best reflection of student because some kids are not the best test takers. Finding the test that is right for you also plays an important role in the process. The ACT is better for people who are strong in math and science, while the SAT suits those who are better when it comes to grammar and reading comprehension.
You should give yourself time to take the test at least twice, in the event that you aren't satisfied with your first score. If you decide to take both, you can see which one you score better on to decide which one to take again. While the tests cover the same areas, people tend to do better on one and not so well on the other. Keep in mind, when applying to colleges, you have to submit your test scores through the testing website whether you take the ACT or the SAT.
Some colleges are even test optional, meaning that if you have a certain GPA and are an overall great student, you do not need to submit test scores.
Teacher Recommendations
Getting a letter of recommendation should not be that hard for most students. After spending three years in high school, there is usually at least one teacher that you have grown a bond with that would be more than happy to tell all the schools you are applying to what a great student you are. This is why you should not get on a teacher's bad side, because if you spend three years disrespecting them, why would they even want to write a letter for you? It is similar to bullying another kid and then expecting them to be your friend.
You only really need one teacher recommendation, and one from your guidance counselor. Schools do not need twenty teachers telling them the same things!
Common Application
Once you start the college application process, Common App will become your best friend. Hopefully, for your sake, all of the schools that you plan on applying to will have their essays available on Common App. Upwards of 600 colleges use Common App as a place to submit college essays and basic personal information.
The Common App goes live toward the end of the summer, and that's the perfect time to start working on it. There is a series of questions that have to be answered regarding grades, testing and personal information. It's very helpful because it keeps all of your schools organized and in one place. It tells you the different requirements for each school, while some may require the Course & Grades section of the Common App, for example, others may not. It makes the already frustrating college application process a lot easier.
When writing these dreaded Common App essays, you have to make sure that you write about something that admissions officers do not know based on the general info in your application. Tell them something that they do not already know about you. What makes you better than the thousands of other students applying for the college? How do you stand out? What makes you different? Sell yourself! You are telling the schools why they should accept you, and unless you are doing an interview at the school, this is the only way that they will get to know you aside from the basic GPA and class ranking information.
Financial Aid and Scholarships
Financial Aid plays a great role in the lives of many students, because let's face it, college is expensive. For someone who is not in the place to carry college loans for years to come, financial aid is very important. That's where FAFSA (fafsa.ed.gov) comes in. FAFSA is a government funded student aid program. Basically, based on where you are financially, it can determine how much money you can receive from the government to go to school. There is another financial aid program that is run through College Board (the company that distributes the SAT) called the CSS Profile. Some schools require the CSS Profile application, and it cannot hurt you, so filling out both are only going to help you.
Scholarships are another great way to decrease your tuition amount. Here at Hudson Catholic, the school uses a program named Naviance, and students are able to access scholarships that apply to them online. All you have to do is apply for them, and you could earn money, or even scholarships for specific schools. The worst that can happen is you do not win the scholarship, but you can apply to as many scholarships that you want to. They usually require a writing assignment, but the essays are always worth the money.
Even though it is a long process, it will all be worth it in the end. Make sure to get ahead on your applications as soon as possible!