No Comments
Meet Track Star Weeshamar Senatus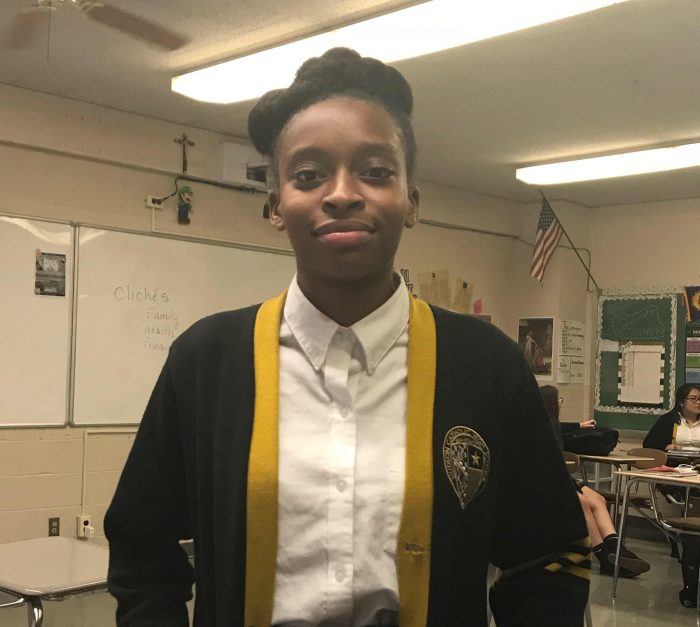 Pamela Rodriguez | On 04, Dec 2017
As Fall sports begin once again here at Hudson Catholic, it's time to introduce the athletes that give these teams such a good name. From football to basketball, there are countless amount of students that excel in each of these sports. But in this case we're going to be focusing on the Track & Field team and one of their star players, Weeshamar Senatus.
As the new season is starting, Weeshamar, better known as "Wish," has a lot on her plate even without a specific title on the team."I don't really have a particular position. I run all things–long distance, short distance, [and] actually this year I'm doing high jump, so that's pretty fun."
Wish is aiming high this season as her goal for the team is to reach Nationals, which will take place in Summer 2018. Having come close to this point last year, Wish believes that the team can achieve this if they continue to work in their running time. "We're like one second away!"
Personally, Wish wishes (no pun intended) to improve herself even as one of the Tracks & Field team's most prominent members. "My other goal is to put my time down- for the mile, 2 mile, 800 [meter], and 400 [meter races]." To achieve this, Wish's motto is to "practice, practice, practice."
"Mostly right now, I'm just working on the mile [race]. I'm trying to get to 5 minutes, right now I'm at a 5.14, we'll see," says Wish when asked about what she's particularly focusing on.
Amongst the recognizable members, some new faces can be seen in the Track & Field team this year. "We have a couple of new members, more than I thought… In my opinion it's our year to win." Wish goes on to express her hopefulness at a successful season because of the various additions to the team.
From her copious amount of wisdom from her years of track experience, Wish shares some tips for those just starting out in the sport. "No matter how bad you do, never stop running. No matter how slow you are, never stop running. Always push yourself to your limit."
For those who are afraid to get hurt or intimidated by the amount of training and practice it takes to succeed at this sport, Wish has this to say: "You're not going to get better if you're afraid of pain. Pain is inevitable in track. It's all about having fun, it's not about the win."
Hudson Catholic wishes Wish and the entire Track & Field team the best of luck this upcoming season. Let's go Hawks!