No Comments
Going Back in Time: Slavery Reborn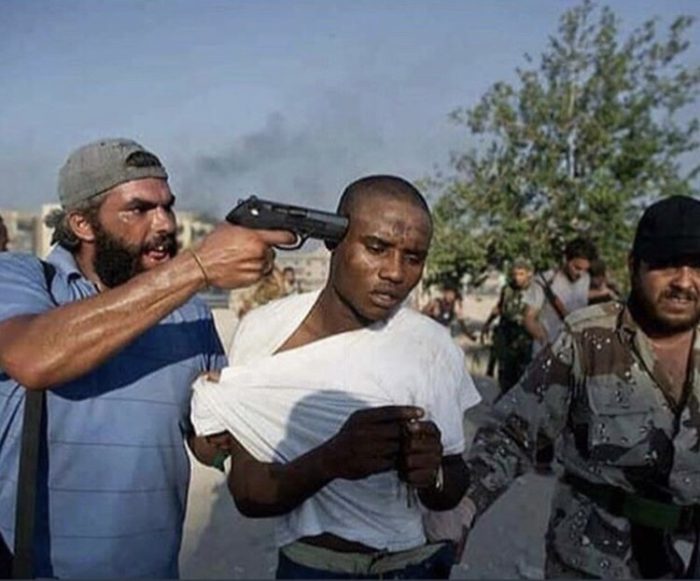 Pamela Rodriguez | On 04, Dec 2017
Not too long ago, CNN reporters published an exclusive story that exposed Libya's slave trade situation after coming across footage of a slave auction, in which a man who appears to be in his twenties is being sold. The man who is the source of the auction bidding in this blurry cell phone video is from Nigeria, a country of origin belonging to a majority of the people being sold in Libya. After seeing this piece of information, CNN reporters traveled to Libya to investigate further and confirm the video's authenticity.
Upon their arrival, CNN reporters hid cameras when entering an unidentified property outside the capital of Tripoli, and witnessed a dozen people sold for as little as $400 in a span of a few minutes.
The salesman dressed in camouflage asked if "anybody need a digger?" (A "digger" refers to a "big strong man, he'll dig"). As buyers rose their hands, so did the prices, going up to $650. The men were then handed over to their new "masters."
After the auction, CNN reporters met two of the men that had been sold. However, they were so traumatized by what they had just experienced that they were unable to speak.
Each year, tens of thousands of refugees swarm the coasts of Libya's borders, escaping violence and in search of better opportunities in Europe. Most of them have sold everything they own in order to afford the trip to Libya and the gateway to the Mediterranean.
But a recent restriction by the Libyan coast guard has caused fewer boats to sail on water, which allows for smugglers to swoop in and take advantage of these refugees' desperate situation. Before they know it, refugees and migrants are being sold and titled as "slaves" while smugglers become their "masters."
All of the evidence gathered by CNN has been handed over to the Libyan authorities, who promise to launch an immediate investigation.
First Lieutenant Naser Hazam of the government's Anti-Illegal Immigration Agency in Tripoli told CNN that while he has not witnessed a slave auction himself, he is aware of organized crime groups running smuggling rings within the country.
"They fill a boat with 100 people, those people may or may not make it," Hazam said. "[The smuggler] does not care as long as he gets the money, and the migrant may get to Europe or die at sea."
"The situation is dire," Mohammed Abdiker, the director of operation and emergencies for the International Organization for Migration, said in a statement.
"The situation is dire," Mohammed Abdiker, the director of operation and emergencies for the International Organization for Migration, said in a statement. He claimed, "Some reports are truly horrifying and the latest reports of slave markets for migrants can be added to a long list of outrages."
The auctions take place in seemingly normal towns in Libya, where people carry out their days with normalcy. But inside the slave auctions, it's as if one is stepping back in time, with the only things missing being the shackles around the refugees' ankles and wrists.
Anes Alazabi is a supervisor at The Treeq Alsika Migrant Detention Center in Tripoli, where refugees pending deportation are kept. Alazabi said that he's "heard a lot of stories" about the abuse endured by these refugees.
"Every day I can hear a new story from people. You have to listen to all of them. It's their right to deliver their voices," Alazabi said.
One of these detained refugees is a young man named Victory, who claims that he was sold at a slave auction. Reaching a point of frustration with Nigeria's Edo state, Victory left home and spent a year and four months traveling to Europe.
He made it as far as Libya, where he as well as other refugees were kept in grim living quarters, deprived of food, and abused by captors.
When Victory's funds ran out to give to these smugglers, he was sold as a day laborer and was told that the profits he made would go to pay off his debt. After weeks of performing forced labor, he was told that the money he was sold for wasn't enough and was returned to his smugglers. He would then be resold many times.
Victory's captors also demanded ransom money from his family before eventually releasing him.
"I spent a million-plus [Nigerian naira, or $2,780]," he told CNN from the detention center, where he is waiting to be sent back to Nigeria. "My mother even went to a couple villages, borrowing money from different couriers to save my life."
As the route through north Africa to Europe becomes more and more dangerous, many refugees opt for the decision to voluntarily return back home.
While many of Victory's friends have made it to Europe, he is resigned to returning back to Nigeria empty-handed.
"I'm not happy," he said. "I go back and start back from square one. It's very painful. Very painful."