No Comments
New Faces on the Wall of Honor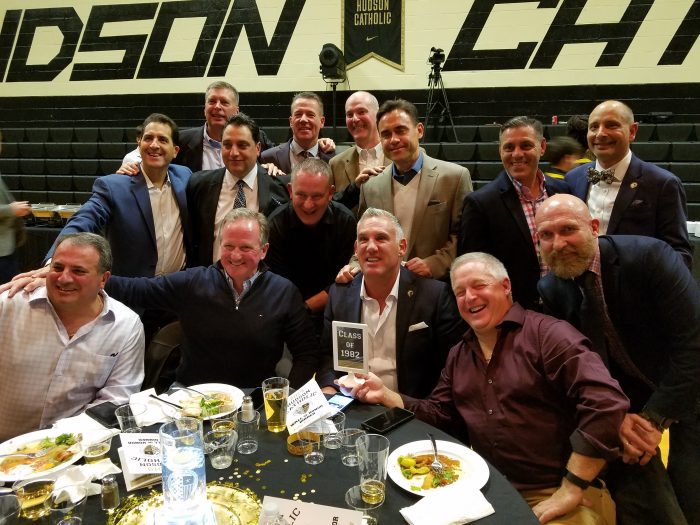 Multiple Writers | On 23, Jan 2020
By Juan Teira and Connor McCall
On Friday, November 22, Hudson Catholic unveiled its newest additions to the Wall of Honor. These new additions were Frank Becht, Paul Lee, George Macchia, and Alberto Vasquez, all of whom specialized in various Hudson Catholic sports like bowling, basketball, swimming, and baseball, respectively. They were all chosen based on their past experiences in their fields and by a committee of peers who know the history of Hudson Catholic and their impact on Hudson sports.
That same night, Hudson also officially dedicated its basketball court as the Coach Nick Mariniello Court. The Commentator was able to interview several of the inductees as well as Coach Nick to get their thoughts on the great honor that they were receiving that very night.
We first went to speak to Principal Garibell about the process of choosing the inductees and the impact of sports on high schoolers. Mr. Garibell explained that they had a committee and they chose the people that had outstanding achievements and they were chosen to be put on the wall of fame.
We also had the privilege of talking to coach Nick, more formally known as Mr. Marinello. Coach Nick has also said how successful his players are and how much they progressed. He mentioned that he dedicates this achievement to his parents, family, and the coaches that inspired him into becoming a coach. Coach Nick has represented our school very well in the court and now he will well into the future of Hudson Catholic.
George Macchia graduated Hudson Catholic in 1982. He participated in many clubs including the National Honor Society and the swim team. Macchia was the Jersey City Swim Meet "Cities" champion in the 100-yard freestyle event in 1982 and the Hudson County Swim Meet champion in the 50 and 100 freestyle events in 1981 and 1982. After graduating from Hudson Catholic, he attended Rutgers University and was a member of the US Air Force ROTC program. After graduation, Macchia entered active duty with the US Air Force during which he became a navigator on a KC-135 aerial refueling tanker and rose to the rank of captain. Macchia served in Desert Storm during the first Gulf war during which he was awarded the Air Medal with two oak leaf clusters.
Frank Becht taught at Hudson during its early years as a physical education coach, and he even was the moderator of the Hudson Catholic Ski Club. He is best known for his time as the bowling team director where he was leading the team for thirteen years. During the event, Becht was very honored to be chosen as a recipient of this great honor. At the time, Becht was also featured on a very popular bowling TV show, "Bowling for Dollars." Becht retired from Hudson Catholic in 2013 but his legacy as a legend still lives on.
The Commentator was also honored to speak with Jack Curry who spoke at the event and who wrote for The Commentator during his time at Hudson. Curry mentioned to us that Hudson has also felt like home to its many students from his time here and even today. He left us with advice for our graduating class saying, "Work very hard and always be prepared."
The night was a very big success and we are happy to have three new additions to our Wall of Honor!