No Comments
Senior Night for Hudson Catholic Girl's Volleyball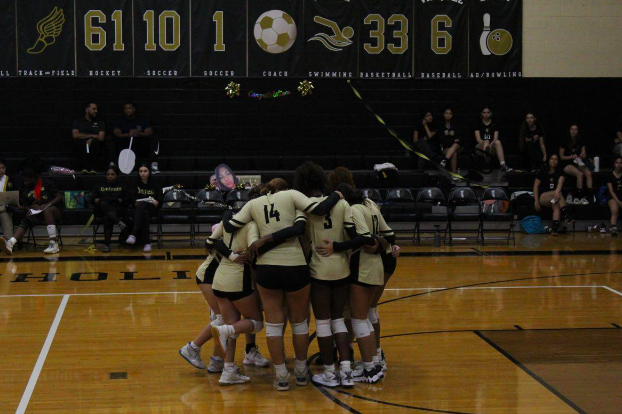 Peyton Morgan | On 27, Oct 2022
On October 13th the girl's volleyball team continued their 3-Game Win Streak as they celebrated senior night here in the Hawk's Nest. Families and friends gathered to show love for the last home game of the season for our star seniors Analdys Abreu, Drew Leonardis, Angelina Rivera, I'yonna Ladson, and star libero Alyssa Rivera. The seniors took the spotlight as they walked onto the court to face off against Snyder for the last game of the regular season.

The parents & guardians stood at the net holding gifts for their talented children. Our boy's Volleyball Coach Fernando announced the names on the speakers as the crowd screamed in joy for these legends. The stars embraced their loved ones tightly and got some quick photos in. After that, the senior night match was then underway.

The Tigers walked into the match having a very rough season. They were 1-15 and last in standings against the Hudson Catholic Hawks. The Hawks were 9-4 and second in standings. Hudson Catholic Hawks had no fear as they strode onto the court with unwavering swagger.

Our match started with Hudson Catholic giving them everything they got with Snyder's defense crumbling like a building being hit by a wrecking ball as a timeout was called right away; the score was 18-8. The Hawks came out of the timeout hungry to obliterate the Tigers. The Hawks ravaged the other team with back to back kills from Leonardis and Abreu.

The Hawks won the first set quickly with a score of 25-8. Tigers took full advantage of the intermission to try and take the game back. The Hawks celebrated as they tried to get prepared to sign the Tigers out in the second set.

Tigers walked into the second set gaining quick points off of the Hawk's errors. Senior star Leonardis takes it back with monster kills getting the lead back for the team. This match continued with astonishing offense from all the Hawks.

Throughout the whole match the offense from Hudson Catholic was probably the best that had been seen all season. There were kills & aces galore for the Hawks. They gave it their all the whole two sets, highlighting the hard work that got them where they are today.

During the second timeout the score was at 20-6 with the Hawks in a far lead. The Hawks came out of the timeout again with star libero Alyssa Rivera hitting them with aces. The Hawks defended the nest to win the game 25-7 off a Tigers error. The crowd chanted and waved the Tigers goodbye.

After the game we were able to ask star libero Alyssa Rivera what senior night means to her. "It's really exciting to be a senior tonight. Since my freshman year I've looked forward to my own senior night," she said with joy, "I think it's really special to grow and play with some of the same group of people."