No Comments
Hawks Win 15-14 OT At Senior Night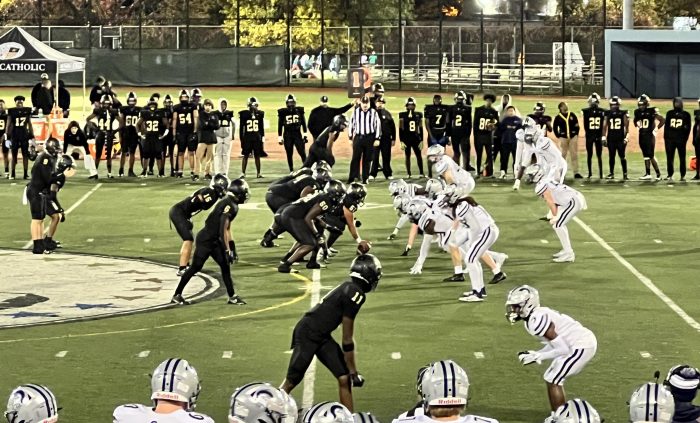 Multiple Writers | On 29, Oct 2022
By: Diego Wharton and Ms. McDonough

Hudson Catholic's football team has been having an amazing season with a record of 7 wins and a mere 2 losses.

"If we had more focus and some more defensive work [we could be even better]," says the team's defensive end, junior Marco Diaz.

These student athletes are constantly pushing themselves on and off the field to be the very best. This season senior running back Jacob Rodriguez has had 976 yards and a whopping 10 touchdowns. Senior wide receiver and quarterback Nisere Bell has 624 yards with 8 touchdowns and 38 receptions.

When it comes to team spirit, Rodriguez says,"I feel like our team spirit is there, we just need to bring it out on the field."

All of the team's hard work has paid off, especially at last night's senior night at Caven Point Field in Jersey City. On Friday October 28th Hudson Catholic went up against Immaculata high school for their last home game.

The night began with senior football players, as well as senior cheerleaders, being honored by their families, coaches, and teammates, as well as all of the screaming fans in the bleachers. After that the game began!

Fans were on the edge of their seats after each team scored on an interception return during regulation and the game went into overtime. Immaculata scored first on its possession, but then Hudson scored on their possession. Senior Nisere Bell caught the final two-point conversion following a 5-yard touchdown run by Senior Hasson Manning Jr. and the crowd went wild.

The Hawks ended their exciting senior night game with a 15-14 OT win over Immaculata high school. Congratulations to all of our players!