No Comments
Two Full Rides to Villanova!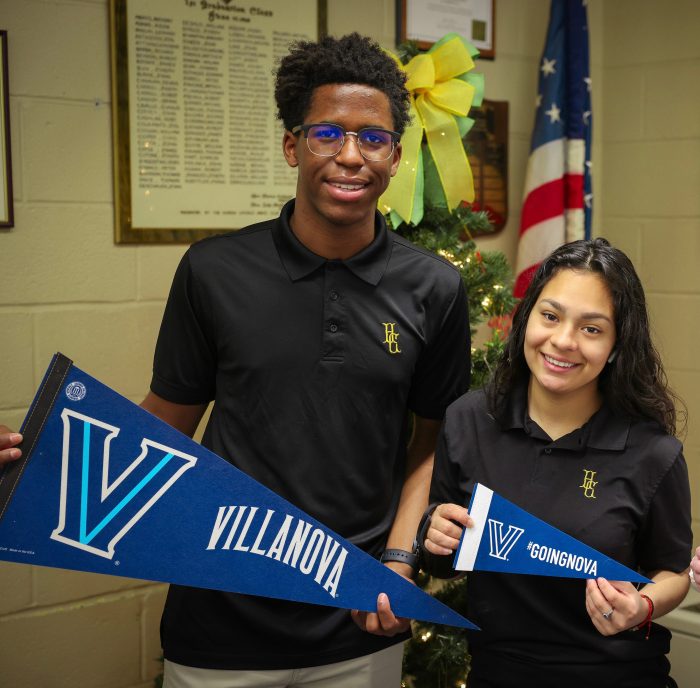 Chase Little | On 27, Oct 2022
During my time talking to Angelina Rivera and Corey McCall, I found stark reasons as to why they were so readily accepted to Villanova University. Between their outspoken and goal driven attitudes there was common cause. Before you get to know Angelina and Corey, it's important to know just how amazing it is to receive an offer of a full ride from Villanova. Villanova, one of the top schools in Pennsylvania, holds an acceptance rate of 31 percent, a GPA of at least 4.0, and prestigious programs.

Angelina shared that Villanova, "offered her the opportunity of a lifetime." She plans to major in Business Administration and Management which coincides with her ambitious leap to form her own business. Angelina plans to not only pursue business, but to help others as a health services manager as well. Throughout her impressive academic career, Angelina remained inspired by the Hudson Catholic faculty and her mother. Within the faculty she especially gives credit to Mr. De Leon and her amazing English teachers who helped her grasp the importance of speaking professionally. Mr. De Leon, the Admissions Director and Director of the two-year Ambassador Program, guided Angelina and helped her discover her astounding leadership qualities. Within Angelina's four years at Hudson Catholic she participated in varsity softball, varsity volleyball, National Honor Society, Prom Committee, Yearbook, and Student Ambassadors.
For Corey, it was the beauty of the school and his high reaching mindset that guided him to Villanova. Corey plans to major in Cognitive and Behavioral Neuroscience and cites his involvement in the Medical Arts Club as something that reinforced his ambition for the field. Corey, like many high reaching Hudson Catholic students, is involved in more than just one club or sport. He is a part of the swim team, Medical Arts Club, Environmental Club, LaSallian Youth, and Peer Ministry. When it came to making the decision to join Villanova's early application process, Mr. De Leon and Ms. Arthurs were integral. Both Mr. DeLeon and Ms. Arthurs, along with his grandmother, had a great impact on the ambitious student he is today.