No Comments
New Flock of Hawks Celebrate Freshman Mass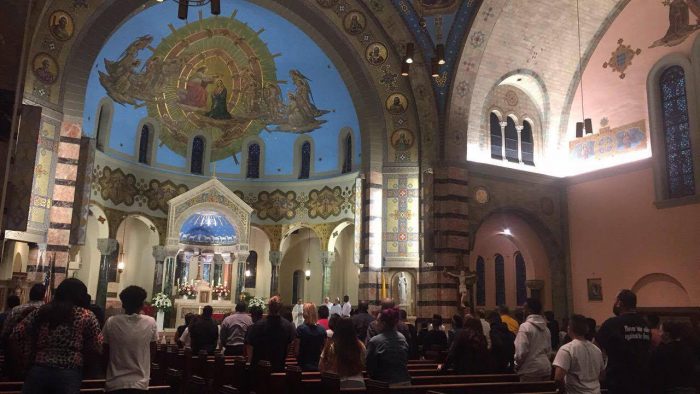 Jhelaine Palo and Arlette Huesca | On 19, Sep 2017
Hudson Catholic held its annual freshman mass at Saint Aedan's Church on September 12, 2017, with Father Rocco as the mass celebrant, followed by a welcome gathering in the cafeteria.
Hudson Catholic gave a huge welcome to the class of 2021. The school invited the parents and students of the class of 2021 for the third annual welcoming mass.
Freshmen and their parents were greeted at the door by peer ministers juniors Sofie Alexander, Pamela Rodriguez, and Jhelaine Palo who gave pamphlets on the overview of the mass.
Everyone took their seats as Hudson Catholic's principal Mr. Garibell gave the opening speech for the commencing of the mass to remind everyone that they are now part of the Hawk family.
The mass began once Father Rocco gave wise advice for the incoming freshmen. Current students participated in the mass, including readings from juniors Alililah Adams-Killings and Arlette Huesca. The altar servers were junior Claude Bamba and senior Katherine Boyle, who assisted Father Rocco.
The mass came to an end once Father Rocco reminded everyone that this was a new journey in their lives and they are now part of a diverse family.
Mr. Garibell then directed the parents and students to the cafeteria where they enjoyed quick refreshments and snacks. Afterwards, Mr. Garibell, Mr. Matthews, and Ms. Cypher talked about their expectations for the school year.