No Comments
Will DACA Disappear?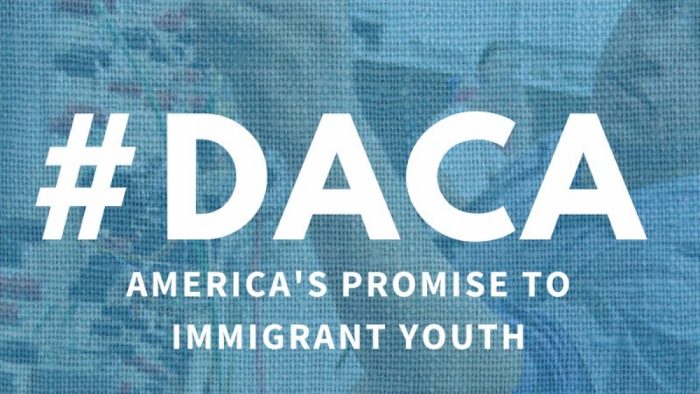 Janae Van Burch | On 26, Sep 2017
On September 5, 2017, President Trump ordered the end of Deferred Action for Childhood Arrivals (DACA), which represents the thousands of people that were brought into the United States illegally as children. Over 689,000 individuals are protected by DACA all over the country.
Some protected by DACA are as old as 40 and are facing the threat of being sent to a country that they have not been in since they were young children. DACA allows many young adults to live successful and progressive lives while contributing a great deal to the American economy and society.
A week after the Trump administration announced that DACA would be ending, the Democratic representatives and the President made a deal to keep DACA in tact, but was soon after shot down by the White House.
What does this mean for DACA recipients?
This means that all DACA recipients, also known as Dreamers, will no longer be able to renew their application and will lose their license and work permits in the span of the two year renewal period. Some dreamers are being given the chance to renew their permits with a deadline of October 5, which would allow them two more years of security.
Hudson Catholic is a member of the Archdiocese of Newark, which released an official statement on the reversal of DACA just hours after it was announced by the Trump administration.
The statement on behalf of the Archdiocese was issued by Cardinal Joseph Tobin. Highlights from this statement can be found below.
The decision to phase out the Deferred Action for Childhood Arrivals executive order is malicious.

It is plainly and clearly wrong for this Administration to use as a political tool the lives, futures and security of some 800,000 young people whose only crime, if you ever could call it that, was that they lovingly and obediently accompanied their parents in pursuit of the dream of freedom and opportunity…They live in our neighborhoods, attend our schools, fight for our country, and contribute actively in our workplaces. They are contributing to this nation's future and prosperity.

They have followed the rules that have been in place, always praying that Congress would step up to the plate and craft intelligent, heartfelt long term solutions to a broken immigration system. One can't hide behind the term "legality" in rescinding DACA. That is an abandonment of humanity, and abandonment of talented and hopeful young people who are as American as you and I. …Catholic teaching calls all people to make a commitment to uphold the dignity of every person and to work for the common good of our nation. Rescinding DACA without having in place through Congress an equivalent and permanent protection for these Americans does not advance society or exemplify our best ideals and beliefs. It is, rather, an abandoning of humanity.
The decision to end DACA will change thousands of lives and have a huge impact on those involved unless overturned by Congress. Some of Hudson Catholic's very own students and families may even be affected by this abrupt decision.
Cardinal Tobin ended his statement with the following, an indictment of the current administration's attitude toward immigration.
"Today, the Administration not only has closed borders; it also has closed minds and hearts."