No Comments
Time's Up at the Golden Globes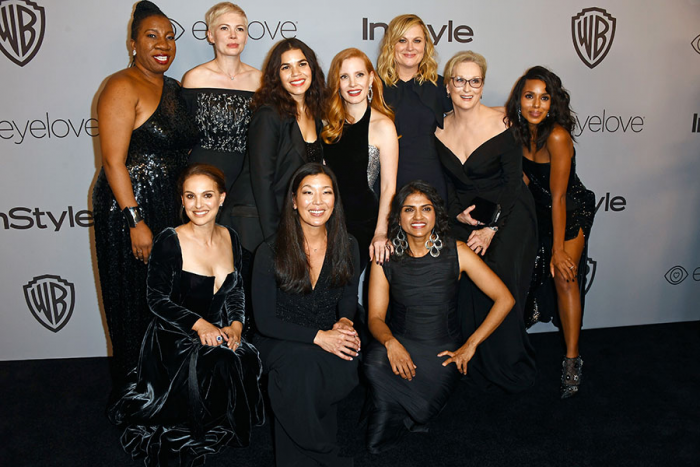 Pamela Rodriguez | On 14, Jan 2018
A night that is usually filled with glitz and glamour was submerged in a sea of black in support of the #TimesUp movement that focuses on recognizing victims of sexual assault.
On Sunday, January 7, 2018, the Annual Golden Globe Awards took place at the Beverly Hilton Hotel in Beverly Hills, CA. The award show, broadcasted worldwide, commenced promptly at 5:00 p.m. P.T/8:00 p.m ET with a red carpet special prior. This year's host was comedian Seth Meyers, who is also the host of this own nighttime talk show "Late Night with Seth Meyers."
A night that is usually filled with glitz and glamour was submerged in a sea of black in support of the #TimesUp movement that focuses on recognizing victims of sexual assault.
#TimesUp includes a legal defense fund, supported by donations from members, whose goal is to help less privileged women pursue legal action against those who violate them. This help extends to women of all industries and careers. This movement has no leader, and said members include actresses and activists, including Ashley Judd, Eva Longoria, America Ferrara, Natalie Portman, and Kerry Washington, just to name a few.
The #TimesUp movement gained widespread recognition after its founder, Tarana Burke, wrote a letter that was featured in a full page ad on The New York Times, expressing the untold struggles that women—and men—experience when faced with sexual assault and harassment. Since then, many women in Hollywood have showed extensive support of the movement and shared their own stories.
This led to some high-profile women, such as Oprah Winfrey and Reese Witherspoon, encouraging all Golden Globe attendees to wear black in solidarity with all victims of sexual abuse. The results were mesmerizing, as a vast majority of guests arrived dressed in black, some even sporting #TimesUp pins.
This wave of unity lingered through the night, as host Seth Meyers started off his monologue by bringing attention to the infamous faces that weren't in attendance. Harvey Weinstein and Kevin Spacey were just two of the men called out who have been accused of sexual assault this past year. Their past actions were brought to light by various women and men in Hollywood, something which inspired the #TimesUp movement.
Meyers went on to congratulate and applaud the women who broke their silence against sexual harassment in Hollywood. For this reason, Times Magazine fittingly titled these women as the "Silence Breakers."
Aside from Meyers, the female winners—and most men—used their momentary platform to enhance the importance of this change within the industry. They each, in their own way, expressed their support for the #TimesUp movement.  Some were more blunt with their delivery and took obvious jabs at the inequality in their line of work. Natalie Portman was one of these, as she called out the Golden Globe category she was presenting.
"And here are the all-male nominees," Portman said as she was accompanied by Ron Howard to present the Best Director award of the ceremony, a category that, as mentioned, featured no women even though there were several female directors whose films were nominated for various awards that night. Reactions from the crowd and the nominees themselves varied. Some were seen shifting in discomfort and others were simply amused by Portman's dig.
As the festivities were nearing their end, what some may call the most eventful part of the evening approached: Oprah Winfrey's speech. The television mogul was commemorated with the Cecil B. DeMille Lifetime Achievement Award for her extensive work in film and television, behind and in front of the camera. Along with accepting this prestigious award, Winfrey used this opportunity to bring attention to the importance to the work done by women in Hollywood.
She spoke of the limited opportunities women—especially women of color—have been offered  in the past and how important representation is on television and film. Winfrey recalled her own experiences growing up and the impact that seeing an African-American on screen helped feed her own dreams. She concluded with a nod to the #TimesUp movement and the women who stood behind it.