No Comments
Hudson Catholic Burger Boys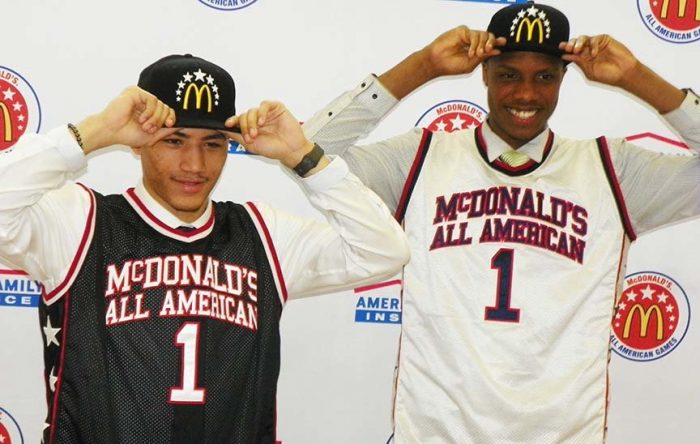 Brianna MacKay | On 11, Feb 2018
History has been made at Hudson Catholic due to seniors Jahvon Quinerly and Louis King being selected to play in the 2018 McDonald's All-American Game, an expedition game where the best boys and girls high school basketball players get to showcase their talents.
Quinerly and King are not only the first two players from Hudson Catholic to ever be selected to play in this game, but they are also the only two players this year to make it from the same school.
Because of the great accomplishment the two boys have achieved, there was a ceremony to honor them on Tuesday January 30 in the school gym. At the ceremony, the mayor of Jersey City, Steven Fulop was among the many people there to honor the two boys and their achievement.
"This is great for the progress of the school and the progress [for] the basketball program and the overall academic picture here. It really is a beacon of light for Jersey City and a terrific story here and we look forward for great things at Hudson Catholic," Fulop stated when asked by The Commentator about his thoughts on the accomplishment of young men.
Making the team is not only great for the school and its basketball program, but it is also great for Quinerly's and King's careers and futures in basketball.
"I'm just very humble, very blessed, a lot of pros, a lot of current pros have been McDonald's All-American and it is just really a humbling experience and I'm ready for it," Quinerly said when asked to comment on his selection.
Being selected to play in the game is only the beginning of the journey for these two Hawks. Make sure you tune in Wednesday March 28 to watch your fellow classmates Jahvon Quinerly and Louis King take part in the 2018 McDonald's All-American game.