No Comments
Gun Violence in 2018 (So Far)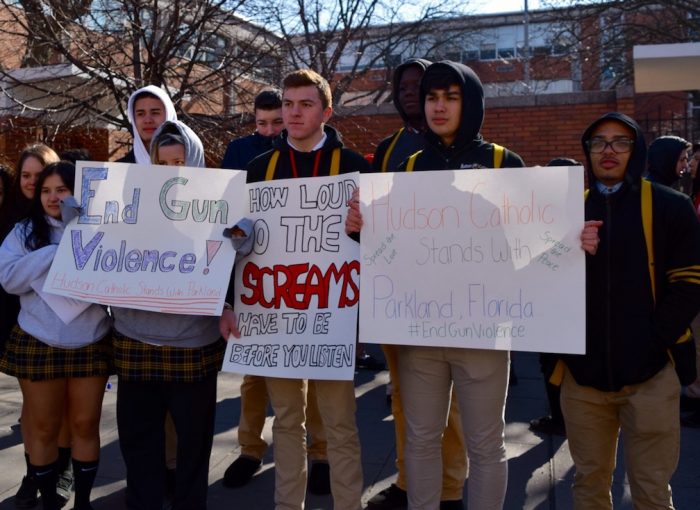 Brianna Mackay and Pamela Rodriguez | On 23, Mar 2018
We have been living in 2018 for fewer than 100 days and there have already been over 20 school shootings in America, putting us on pace to have the most school shootings in a year, ever. These shootings have happened all across the United States and are causing students in schools throughout the nation to stand up in order to find a solution to stop these horrific tragedies.
One of the first shootings that took place this year was on January 23 in Kentucky, when a male student of Marshall County High School shot 16 people in the school's lobby. The casualties were two 15-year-olds, but the crime did not attract enough attention to cause a spark in the media to start a gun control debate.
The shooting that has lit a fire within many teenagers across America to start the gun control debate was in Parkland, Florida, on February 14, when an armed shooter entered Stoneman Douglas High School and killed 17 people, injuring dozens of others. What happened on this day led surviving students of Stoneman Douglas to take a stand on the gun issues plaguing America.
The first event that arose from the shooting in Parkland, Florida, was the resilience shown by students and the determination to get their voices heard. Parkland senior Emma Gonzalez urged adults, students, lawmakers, and politicians across the country to stop the killing of children due to guns.
"If the President wants to come up to me and tell me to my face that it was a terrible tragedy and how it should never have happened and maintain telling us how nothing is going to be done about it, I'm going to happily ask him how much money he received from the National Rifle Association," Gonzalez said in her moving speech at a gun control rally in Fort Lauderdale, days after her school's shooting.
Gonzalez, along with her classmates, has shown the country the power of teenagers' voices and proven that their opinions, contrary to popular belief, are valid. Cameron Kasky, a junior who also survived the shooting, demonstrated this sentiment at a CNN town hall on February 21.
When Kasky asked Senator Marco Rubio (R) if he would commit to not accept a single donation from the NRA, Rubio responded with the following: "People buy into my agenda and I do support the 2nd Amendment." This caused jeers from the crowd. The town hall's speakers featured survivors of the Stoneman Douglas shooting, parents of the victims, state legislatures, and NRA representative Dana Loesch. Its purpose was to discuss not only the most recent shooting, but also possible solutions to stop mass shootings as a whole.
To exercise the movement further, students from Stoneman Douglas have organized several events to take the conversation of gun control from likes and retweets into real-life action.
The first effort being a National School Walkout which occurred on March 14, a month after the shooting in Parkland, Florida. On this day, thousands of students walked out of their schools for 17 minutes to honor the 17 people that fell victim to this tragedy.
We at Hudson Catholic took part in the Walkout ourselves, with a day dedicated to speaking about issues that affect schools, one of them being guns. Hudson faculty and students commenced with a short prayer service which focused on the victims of Stoneman Douglas as well as those who are harmed by gun violence everywhere.
At precisely 10:00 a.m, Hudson Catholic gathered as one outside of its main doors and surrounded the school with signs that spoke of peace and justice.
The second upcoming event in this ignited movement is titled 'March for Our Lives' and calls for students, and adults, across the country to march to their city or state halls to demand action against gun violence. The main march, however, has its destination set for the nation's capital, where a vast amount of people are expected to show.
Although impactful movements such as these are always a collective effort, the 'March for Our Lives' main organizers are Stoneman Douglas survivors Jaclyn Corlin, Alex Wind, Emma Gonzalez, Cameron Kasky, and David Hogg.
For many, these teenagers symbolize what most teens in America want to be represented as: mature and capable individuals with powerful voices and valid opinions. From their adversity, they were able to restart a conversation that wasn't getting the awareness it deserved. In this aspect, they have succeeded, as they have gathered the attention of high profile public figures. They have appeared on television shows such as Dr. Phil, Ellen Degeneres Show, and Good Morning America.
On the legislative side, "The National Rifle Association opposed a provision of the law that raises the minimum age to purchase a firearm from 18 to 21. It immediately filed a federal lawsuit against Florida, saying the age mandate violates the Second and 14th Amendments to the Constitution," according to CNN. A controversial policy has been discussed which suggests that teachers be armed as well, a policy that President Trump has agreed to support.
Even though there have been many movements since the shooting in Parkland, Florida, to try to stop gun violence in schools, they are still occurring, the most recent one just this week. On March 20, a gunman shot and injured 2 students at Great Mills High School in Maryland, before being killed himself by an officer during a round of fire.
The two students injured were 16-year-old Jaelynn Willey and 14-year-old Desmond Barnes. Barnes was shot in the leg and is recovering, while Willey was sadly taken off life support March 22.