No Comments
Will You?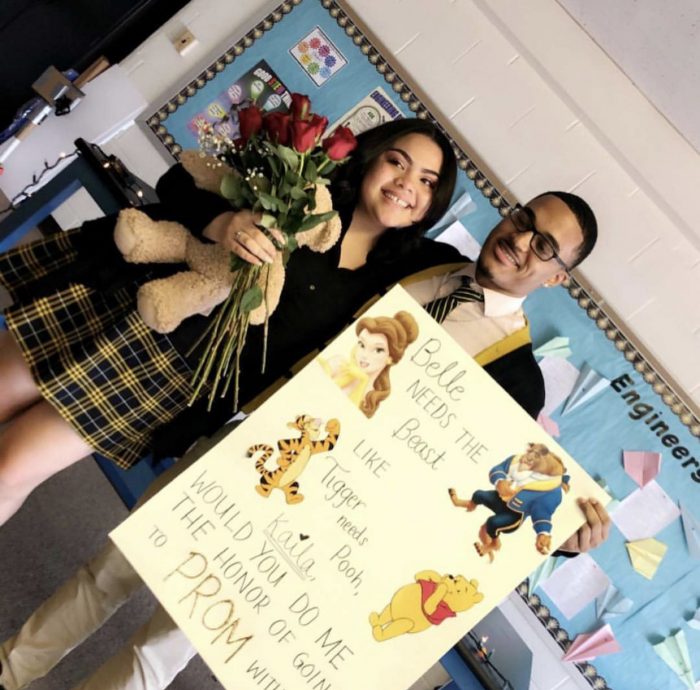 Milan Spellman | On 11, Apr 2019
Every girl waits for the moment that is talked about all throughout her teenage years. They fantasize about it with their friends, send the boys hints to let their expectations be known. The boys plan for weeks and everyone around the two anticipate the big moment. The day finally comes, your girlfriends get you all dolled up, you don't know what's happening. They take you to a special location where your significant other is waiting for you to arrive. You walk up to him, see your closest friends and he pops the big question! "Will you….go to prom with me?" Yep! A Promposal, the special moment where someone is asked to Junior/Senior Prom. Promposals have become a huge part of people's high school careers and we have had quite a few at Hudson Catholic this year.
It all started at the Winter Pep Rally when our very own senior Moses Garcia popped the big question to fellow senior Sofie Alexander.
"Planning this was nerve-wracking but I enjoyed every moment of it," Garcia said after the promposal. Moses was dressed as Hudson's Hawk mascot and gave the cheerleading team a big role in popping his big question.
"We all knew Moses was excited so planning it with him and becoming a part of it, we got excited too," said 11th-grade cheerleader Alycia Lopez. The girls grabbed Sofie from the audience, brought her to Moses who was in the mascot costume, and the held up signs that read "Prom?" Sofie said yes and the school clapped it up for the two of them.
"I knew he was going to prompose but I didn't know when or where. He kept me in anticipation for months, so when the girls pulled me from the audience I had no idea what was going on and was completely freaked out. But once I was in the middle of the gym, I realized what was happening and was so shocked and amazed," Sofie said to The Commentator when asked to speak about her promposal.
The next promposal was a little bit more subtle but just as amazing. Valentine's Day, a day to spoil your lover, but senior Todd Coles came in with more than just chocolate covered strawberries this year. Todd promposed to girlfriend and fellow senior Kaila Fields with red roses, a sign, and a teddy bear with Todd's voice recorded in it. The sign read, "Belle needs the Beast like Tigger needs Pooh, Kaila would you do me the honor of going to prom with you?"
Todd included the two's closest friends and had them give her roses as she walked down the school's third-floor hallway while "Best Part" by Daniel Caesar played in the background.
"I was really excited planning it because I knew it was what she's wanted for the longest, so seeing her happy was really satisfying," Coles said. Kaila was in tears the moment she walked into the hallway and saw her friends with the roses.
"Our whole group knew Kaila wanted a promposal and we know Todd's really thoughtful when it comes to making Kaila smile, so we knew it'd be a perfect set up and our girl would be really happy," senior Alexis Nunez said when asked how their friend group felt about the promposal.
As for how Kaila felt, she said, "He knew I wanted a promposal, but he had just been brushing it off in the moment so I wouldn't expect anything. I know how cute he can be with seeing me smile so whatever he did I honestly would've been more than satisfied. But it was perfect and the fact that our closest friends can be there and we all were together in our little group made it that much more special."
Get ready to watch these couples slay the day at Prom 2019!