No Comments
Celebrating 5 Years of the Dual Enrollment Program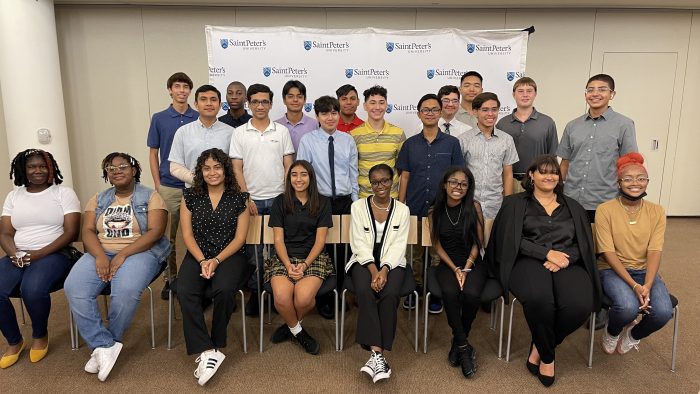 Diego Hernandez | On 11, Nov 2022
Hudson Catholic is now celebrating its fifth year of its Dual Enrollment Program with St. Peter's University. Starting in 2018, Hudson students were granted the opportunity to attend college-level classes at St. Peters. With this opportunity they were given the promise of not just graduating with a high school diploma, but also 60 college credits and an associates degree in either the science or art fields. This program continues to this day, producing multiple groups of successful students.

This upcoming May of 2023 two of the students from Cohort 1 will be graduating from The University of the Sciences with a Bachelor of Science Degree. As for the other students of Cohort 1, they went on to attend colleges such as St. Peter's University, Kean, Montclair State, Seton Hall, Stony Brook, NJIT and Villanova. By seeing where they are now, it is clear that they have benefited from the Dual Enrollment Program.

During the time of Cohort 1, St. Peter's University held its 150th Michaelmas Convocation Academic Awards program in Saint Aidan's Church. At this event awards were given to the best and brightest students for their academic achievements. It was here that the success of our Cohort 1 students was truly put on display. The Recipients of Dean List Honors, Genesis Maravillas, Cheyenne Murray, Akshaye Tamasar, and Alexa Villaver, were all Hudson Catholic's very own. Three of these students received additional awards as well. Genesis Maravillas received the Pi Mu Epsilon Mathematics Honor Society award. Alexa Villaver received the Alpha Phi Sigma and Criminal Justice Honor Society award. Akshaye Tamasar received the Alpha Alpha Alpha National Biological Honor Society award, and National Honor Society for First Generation College Students, alongside being inducted into the Most Noble Order of the Peacock.

When it came time for Cohort 2 to show off their hard work, this group reached new heights. Student Juan Teira was accepted into Cornell University. Another student received a scholarship of 70k to Stevens Institute of Technology. Other students of the program went on to attend schools such as Rutgers, NJIT, St. Peter's University, Manhattan College, Penn State, Fordham, and Stevens Institute of Technology.

Dual Enrollment students of the past and present all deserve congratulations for their accomplishments! As Cohort 5 begins their Dual Enrollment journey, all of us at Hudson Catholic are excited to see what they will achieve. These students will no doubt follow in the footsteps of previous dual enrollment groups and make all of us proud.