One Comment
Review: The Ten Dollar Founding Father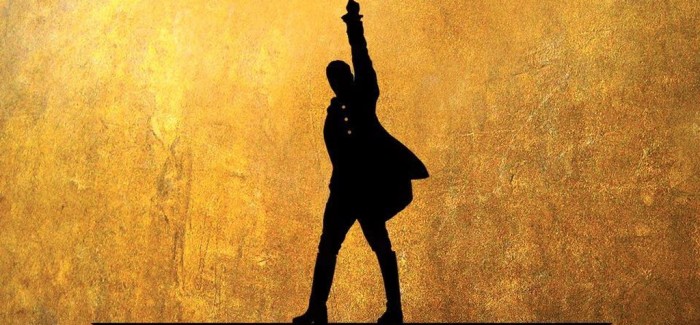 Dana Picinich | On 27, Apr 2016
The musical Hamilton seems to be the hottest ticket on Broadway these days.  It is completely sold out through the winter of 2016, and if you want to buy tickets any sooner, be prepared to pay $400 or more for just nose bleeds.
Ask any celebrity if they know what Hamilton is, and they will answer by saying that they have already seen it, a few more than once. Numerous of A-list celebrities have reported seeing the show. If an icon such as Beyoncé, has seen Hamilton, then that means it is a show worth seeing, and Bey has seen it twice. Other prominent figures that have seen the musical are Kanye West, Amy Schumer, and even the President and Vice President of the United States.
So what makes Hamilton great?  Isn't it just another musical that made an off-Broadway debut in January 2015 and moved to Broadway in August 2015? Isn't Hamilton just the guy who lost in a duel against Aaron Burr? Yes and no. Hamilton is the man who got shot by Burr, but the musical goes beyond that. Hamilton is not just your ordinary musical and I will tell you why.
First and foremost, in what other musical is composer and writer is also the star of the show? Yes, Lin-Manuel Miranda is not only the writer, but also the star that brings the whole show to life. Not only does he make the audience love the show, but he also makes the show love the audience back.
Miranda uses intricate rhyme to tell Hamilton's story. The catchy tunes blend rap, hip-hop, R&B, classic Broadway, and even some operetta to intrigue the audience. The musical may be set in the 18th century, but the audience is able to relate it to today's politics through song and rhyme.
Featuring conflicts such as large versus small government, immigration issues, to even isolationism versus internationalism, Hamilton allows the audience to relate to topics that are in headlines today in an entertaining and educational manner.
The cast is multi-ethnic and tells the story of the Caribbean born French/Scottish born Alexander Hamilton, one of our founding fathers, during America's early years. Miranda, who is from Puerto Rico, plays the part of Hamilton, along with a performers ranging from African American to Chinese American playing the parts of Aaron Burr, George Washington, and Eliza Schuyler.
I know that when I tell people that I want to see Hamilton, they usually make a face because they assume that the show is strictly about politics, but that isn't the case. Critics agree that within those three hours of the show, the audience is engaged and gets a glimpse of the life of this legendary man. We see his coming to America, his marriage, his life at war, his son's birth, his appointment to Secretary of Treasury, his sex scandal, his loss at a chance of presidency, and finally his death.
Hamilton brilliantly blends America's past with America's present. Americans from all around the world are able to connect with it through the genius casting that embraces the history and diversity of American culture.
Broadway is typically known for its lack of diversity, and that is why I believe so many people are attracted to Hamilton. It's the musical that makes historical America look more familiar, more like it is today. Miranda's mixture of hip-hop with a history lesson helps the audience connect with our country's past.
People may interpret Hamilton as they like, but the bottom line is that it is about an immigrant trying to be accepted into a nation of immigrants. It's just another one of the millions of versions of the American Dream. And that, my fellow Americans, is what makes Hamilton a musical like no other in history.