No Comments
Kobe Hangs Up Another One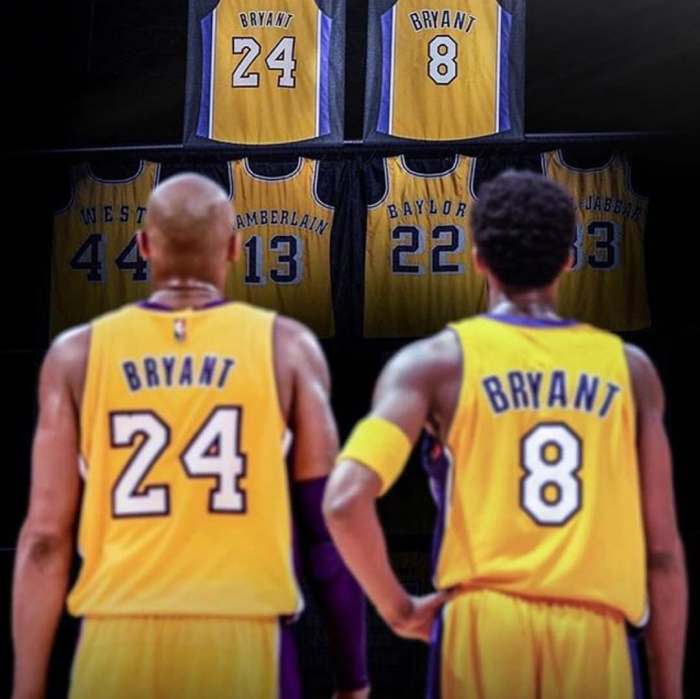 Jon Francisco | On 20, Dec 2017
Kobe Has Not One, But Two Jerseys Retired.
On Monday, December 18, 2017, future Hall of Fame inductee Kobe Bryant had both his No. 8 and No. 24 jerseys retired by the Los Angeles Lakers organization. The ceremony took place during the halftime of the Lakers-Warriors game.
Not only did Kobe Bryant have his jersey retired only two years after he retired as a pro, but he had both of his numbers retired by the same team. After he retired, everyone wondered "Which one of his numbers will be retired?" But if you split the statistics between how he played in the first half of his career (No.8) versus the second half of his career (No.24), both players are worthy of getting their jerseys retired.
In the end, both of Bryant's numbers were retired, never to be worn by another player in the organization. This marks the first time a player had more than one number retired by the same team
Golden State Warriors Head Coach Steve Kerr decided to keep his team on the court to witness the historic event. Kerr made his decision clear, claiming that his players "would look at me like I was nuts. There's something interesting going on the floor. Let's go out there." They would join the likes of NBA legends such as Bill Russell, Magic Johnson, and Jerry West in attendance for the ceremony.
As this officially means that Bryant has moved on from basketball, he managed to leave a huge mark in the history of basketball. With twenty years in the league, he has inspired the new generation in many ways, as the previous generation had inspired him.
Many people suggest that his iconic fadeaway has inspired today's players to create their own version of the shot. Many people also believe that his style of play is almost identical to that of Michael Jordan's. Warriors Head Coach Steve Kerr was a former player in the NBA, notably remembered for winning three championships alongside Michael Jordan. Being that he knows Jordan personally, he believes that Kobe is "the closest thing to Michael (Jordan)" and that he has "the same mentality and mindset that MJ had."
With many great players to come, no player will ever be another Kobe Bryant. No one will ever be close to achieving his accomplishments, accolades, and "Mamba" mentality.