No Comments
Betsy DeVos on 60 Minutes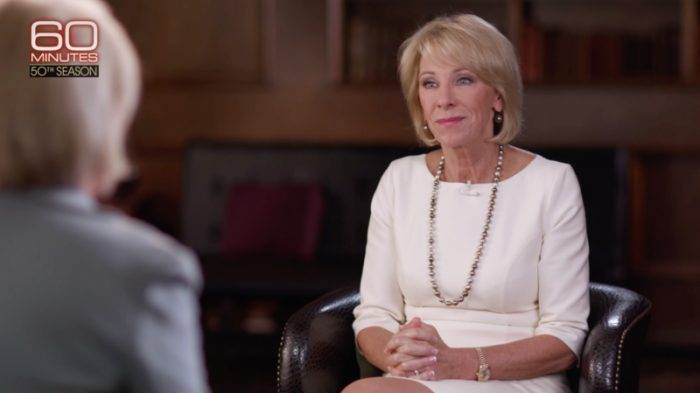 Pamela Rodriguez | On 18, Mar 2018
Does our secretary of education know how schools work?
Last Sunday, Secretary of Education Betsy DeVos appeared on the CBS television program 60 Minutes in an interview conducted by journalist Lesley Stahl. As the interview progressed, things got awkward–fast. It appeared as though DeVos didn't know the answer to some basic questions regarding education and schools in general. This is concerning as she is our secretary of education and her job description includes administering federal assistance to schools and enforcing education laws. Having no knowledge of how schools work, for instance, would deem her incapable of keeping her position.
Arguably the most memorable moment of the interview was when Stahl asked DeVos why public schools in her home state of Michigan weren't performing well. DeVos fumbled for a few seconds while attempting to respond to the question, but soon admitted that she had indeed not visited any of these underperforming schools.
Stahl readily suggested that she should pay a visit. "Maybe I should," DeVos replied.
People on social media were quick to comment on the cringe-worthy interview, such as Twitter user Kevin Lockett who said, "The crazy thing was that Leslie Stahl wasn't pressing Betsy Devos and she couldn't answer a simple question. #60minutes"
Others took a more comedic route and implied that it's possible DeVos didn't know much about her job. Twitter user Kashana commented, "I bet every once in a while Betsy DeVos googles what schools are."
DeVos, whose assets have been reported as totaling from $583 to $1.5 billion, comes from a privileged background, causing her to be accused by many of being out of touch with the education system. DeVos earned a bachelor's degree in business economics in 1979 from Calvin College, and since then has made large contributions to the college. This, however, didn't stop Calvin students from protesting her cabinet confirmation in 2017 in an open letter.
As for her experience in politics, DeVos is a former chair of the Michigan Republican Party. She admitted to making $5.3 million in political donations, which included nearly $2 million in 2016. Her husband, Dick Devos, also made $1.2 million in political contributions during the 2015-16 election cycle. Mr. DeVos is a former member of the Michigan State Board of Education, and ran for governor of Michigan in 2006 but lost to the Democratic nominee Jennifer Granholm.
It can be said that her husband would be a better fit for her position, considering that DeVos has little involvement in the education system and has never attended or worked in a public school in her life. This makes her undoubtedly disconnected from the experiences of the students whose financial and educational problems she is obliged to aid.
What can be said for certain is that DeVos has faced backlash for her ideas and comments labeled as harmful for public schools and the students who inhabit these schools.
Like many of President Trump's administration members, DeVos has directed her attention to reversing Obama-era policies. One of these policies being Title IX, a federal law that prohibits any type of discrimination due to sex in any educational program or activity that receives federal funding. Her reason being for fear that those accused weren't receiving the proper due process. As a replacement, the Department of Education released a Q&A listing suggestions as to how schools should respond.