No Comments
Review: A Quiet Place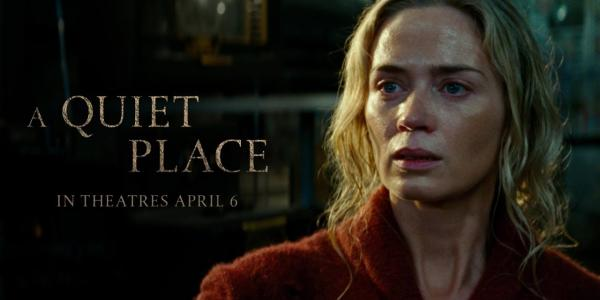 Pamela Rodriguez | On 26, Apr 2018
"If they hear you, they hunt you."
That's the premise of the horror blockbuster A Quiet Place, which premiered April 6, 2018. Co-written and directed by John Krasinski, the thriller featured Krasinski and his real-life spouse, Emily Blunt, as they told the story of a family living a secluded life due to the torment of unearthly monsters.
Commencing with a straight jab to the heart, the film depicts this family's unimaginable struggles as they try to survive, all the while remaining completely silent. As the audience quickly learns, any moderate sound is enough to draw the attention of terrifying blind creatures who are solely guided by sound.
Although laced with anticipation and suspense, the root of the storyline consists of the love for family. Boldy breaking away from the stereotypical "end of the world" horror flick, A Quiet Place is able to bring real human qualities out of the characters being portrayed. A parent's love and their ability to commit the ultimate sacrifice is expertly depicted as Krasinski's and Blunt's characters quite literally fight to the death.
Unlike any other horror film around, such as the heavily advertised Truth or Dare, A Quiet Place provokes thought and emotion from its audiences ultimately forcing movie-goers to put themselves in the characters' shoes. Even though the thought of flesh-eating monsters taking over the world is far-fetched, the question remains the same: what would you do to protect your family? A question that lingered in my head even after I had left the theater and found myself surrounded by my own family.
This thought process had never occurred after any other horror film I had watched, which made me question why I was so heavily affected by it, after all, it did bring me to tears. Perhaps it was the concrete emotional storyline or the unique chemistry between on-and-off screen husband and wife, either way, it left me stunned.
These opinions aren't solely my own, as A Quiet Place has received copious compliments from critics, even earning a whopping 95% by Rotten Tomatoes. The acclaimed film critic site stated: "Sometimes you see a film and other times you see a movie. A Quiet Place is a movie, a white-knuckle ride from start to finish using all of the cinematic elements – image, sound, editing, score, and great characters to come together beautifully within the time-tested horror genre."
Many have equally applauded Krasinski and foresee his successful directorial career. Created with a $17 million budget, the film grossed to an astonishing $151 million, enough to consider it a huge success.