No Comments
Justin Glover: The Student Behind the Athlete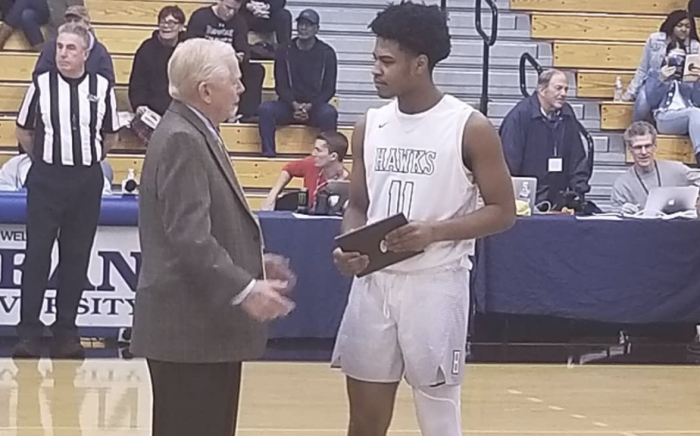 Simone Abdullahi and AJ Perrenod | On 19, Mar 2019
Earlier this year, we pulled Hudson Catholic's very own student-athlete, sophomore Justin Glover, out of geometry class to have a quick chat with him about his basketball career. Seeing that his hands were tightly gripping one another, we sensed he was a little nervous and decided to start the interview with some light-hearted questions.
We asked him when he started playing basketball. With ease, he said at the age of seven.

Being that we knew he loved the sport, we decided to ask him why, and with a smile, he started reminiscing on times past.

"My family plays a big part. My cousins play college basketball now. One plays for Duke, one for Georgia state, and another used to play for Alabama. So basically, it's like a tradition now. We used to play each other when we were younger. I always loved it because it was always competitive. Especially for me because I was the youngest."

"Honestly, I just want to get better and improve my game. People say that I'm just a shooter, so I'm trying my best to do more than that."
Even though he's only a sophomore, we decided to ask him about his thoughts on college. We can see his interest in the topic by the way he answers in an accomplished tone.

"Right now, the coaching and teaching staff are trying to get me to go to an Ivy League school. I've been getting looked at by Columbia and this school in Maryland. So right now, I would say it's looking pretty good."

Now that he was more comfortable, we decided to address some rumors we've heard. We asked him if he was planning on going to Harvard. As if he was watching himself reach that goal, he told us with a smile, that he's hoping to get there. He tells us that his teachers push him every day to hand his work in on time and to keep studying. He tells us first hand that it's a hard process between basketball and school work.

The stereotypical basketball player is often not motivated to do work and is okay with just getting by. But Justin is anything but a stereotypical basketball player. We were very curious, and asked him what motivated him to do so well academically.

"Well, I've been told I can do more than just basketball. My teachers have always told me, 'Oh, you're very intelligent and you speak properly, so you should use that to your advantage.' Basically, they told me that basketball can get me to college, but so can books, and they can get me a good education as well. I've always wanted to become a lawyer too, so being educated would push me one step further."

We talked to him about receiving the SFIC Academic Excellence Award and asked him what the requirements were for receiving this prize. He told us with pride that it boosted his confidence and let him know that he's doing something right to get him somewhere in life. According to Justin, the requirements to receive this award is to have a G.P.A higher than a 3.6, as well as the highest G.P.A on the team. Justin exceeds this limit by holding a 3.8 G.P.A with hopes to maintain it. Being so curious, we asked him what the average day for a basketball player was like.

"Depending on if you're dedicated to both basketball and school, you would wake up in the morning, throw up shots before school, change back into your uniform, and go to class. Then, after school, you would try to get most of your homework done and then go to practice. For me, I get home around seven thirty. So once I get home I take my shower, finish the rest of my work, and go right to sleep because you need your energy for the next day," he explained to us.

After hearing this lengthy schedule, we asked him if there was anything that he'd change, school wise or basketball-wise. He shook his head no while still pondering on the question.

"I don't think so. Well, maybe if I could get a little more time to focus on school because it's been kind of hard lately, but honestly, I wouldn't change a thing."
We decided to end with a lighthearted question. Being that he is still a kid, we asked him to tell us something not many people know about him. He told us that he loves school and loves to learn. He said because of this, people don't just see him as a basketball player and include him in many more things. Due to his love for education, he's joined Hudson Catholic's Lasallian Youth program.

This interview with Justin enlightened us with the true struggles of juggling life as a student-athlete. He also showed us that there is another side to the stereotypical "jock" persona. Hudson Catholic should embrace more students like Justin and hold him as an example of what we aspire for our student-athletes to be.