No Comments
Freshman Hawk Spotlight: Bryan Joseph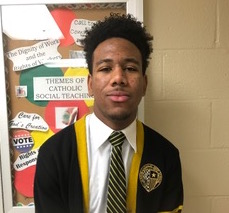 Khadija Jalloh and Caila Smith | On 15, Jan 2017
Meet freshman Bryan Joseph, a recent graduate of Sacred Heart School right here in Jersey City, NJ. When asked why he chose to attend Hudson, his response was, "The community was similar to my grammar school … pretty small, friendly people. I had a lot of offers, but I chose this one."
When asked how he likes the school so far his response was, "I like it," Joseph said. "The teachers wake up every morning ready to teach kids, and I'm happy about it."
Like many students who have goals, we asked about his plans for the school year. For Joseph, it was all about grades. "Getting first and second honors," Joseph said. "Nothing much but just staying focused."
Joseph will be a new addition to the basketball team this year. He isn't sure about whether he will be on the freshman or JV team. His position will be PF/C. Joseph is used to playing this position and will surely succeed at it.
Finally, The Commentator asked if Joseph participated in any activities after school. "I play for AAU basketball," Joseph said, referring to his team, the North Jersey Fire.
We hope to see more of Bryan Joseph and wish him the best of luck during his freshman year!