No Comments
Top Scorer in the State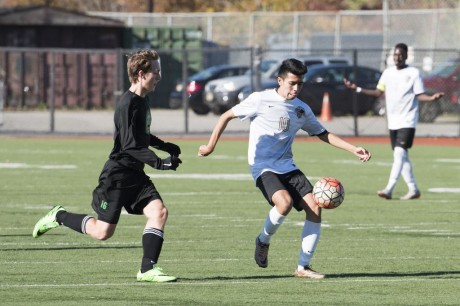 Raquel Garner | On 04, Jan 2017
As the fall seasons are all coming to an end, The Commentator felt it appropriate to interview a member of the team that made it the furthest this year, Hudson Catholic soccer player, Ariel Parada. From his freshman year to now, the underestimated player has been the leading scorer on the team and this year was his best yet.
Senior Ariel Parada was announced the top scorer in the state of New Jersey, scoring over 40 points in his last season. When asked what even made him want to start playing soccer he replied by saying, "It's just come so naturally to me. I started playing playing soccer since before I could remember. I love it, it's what I do."
The Commentator then asked Parada what motived him to make it so far this season, and what made this season so different.
"My success is what motives me," Parada responded. "And making my parents proud."
This year, the Hudson catholic soccer team made history by winning the state sectional finals, allowing them to be the first team in over 20 years to make it that far in Hudson soccer history. With Parada leading the way, the soccer team was indestructible.
"Making history for Hudson fills me with pride and joy. I'm very grateful to leave Hudson Catholic with a state title," Parada said.
Although this is Parada's last year on the team, he is looking forward to his future and wishes luck to the team he calls a family. He has nothing but faith for his fellow soccer Hawks.
"I think the team next year will be solid. I believe if they keep up the energy and fight as hard as they did this year, then they will be even better next year."