No Comments
Put A Ring On It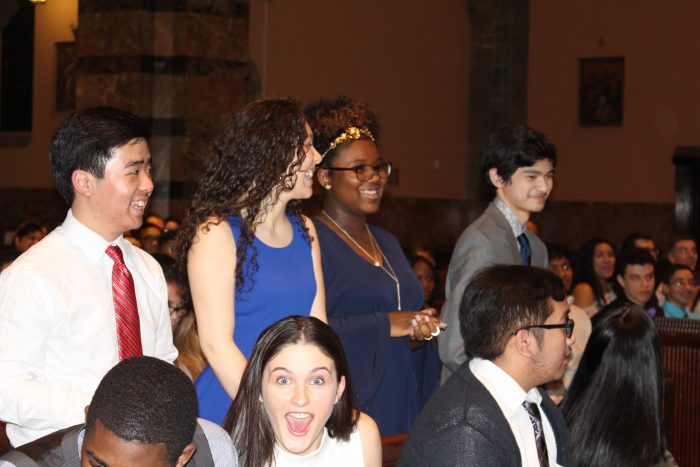 Brandi Davis and Reggienal Gonzales | On 10, Apr 2017
On Thursday, April 6, 2017, at 7:30 p.m. in St. Aedan's Church, Hudson Catholic went ahead and put a ring on it!
The Junior Ring Ceremony was a beautiful occasion for the rising senior class. Father Larry Evans presided over the event, speaking directly to the juniors and especially their parents and family members.
Father Larry emphasized the true ownership of the rings. He insisted that they do not solely belong to the juniors, but rather to everyone who has helped them on their road to this point, including parents, teachers, and other role models.
After the rings were blessed, juniors processed up to receive their customized bling from Mr. Richard Garibell and Mr. Terence Matthews.
The evening was almost perfect, with the exception of a tiny mix-up between twins Jivan and Ashook Persaud. Apparently, Ashook was handed Jivan's ring by mistake. While the snafu was sorted out, Mr. Frank McGady tried to keep the mood light with some humor at the podium, which most giggled at, but some described as "cringey."
At the conclusion of the event, the juniors were asked to rise and pledge their allegiance to the black and gold.
After the ceremony, the juniors followed the tradition of asking loved ones to turn their ring eighteen times for the class of '18.
Overall, it was a great night: laughs, tears, and smiles all around.