One Comment
Shakeup on The Senate Floor: Al Franken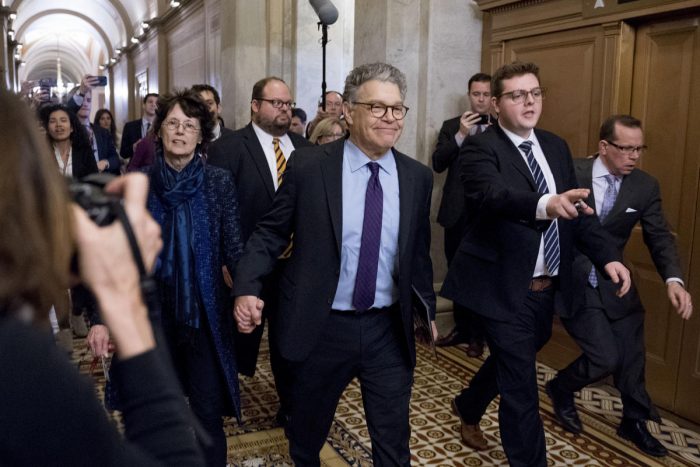 Pamela Rodriguez | On 12, Dec 2017
On Thursday, December 7, 2017, Senator Al Franken (D) of Minnesota announced that he will be stepping down from his position, during a speech on the Senate floor. Franken's decision is brought upon by the numerous sexual misconduct accusations made against him.
Sen. Franken commenced his speech by applauding the positive effects of the recent #MeToo movement, which consists of women sharing their sexual assault/harassment stories as a way to bring awareness to the issue.
"We were finally beginning to listen to women about the ways in which men's actions affect them," Franken said. "That moment was long overdue."
Then the conversation turned to him, as he commented on the accusations made against him.
"But in responding to their claims, I also wanted to be respectful," Franken added. "Because all women deserve to be heard."
Sen. Franken made the announcement that he will be resigning from the Senate in the following weeks, a statement that came to a surprise to many and left the Senate floor completely silent.
"Let me be clear. I may be resigning my seat, but I am not giving up my voice," Franken said. "I will continue to stand up for the things I believe in as a citizen and as an activist. Minnesotans deserve a senator who can focus with all her energy on addressing the challenges they face every day."
While making this speech, Sen. Franken poked at the fact that while he's currently resigning from his position while "a man who has bragged on tape about his history of sexual assault sits in the Oval Office and a man who repeatedly preyed on young girls campaigns for the Senate with the full support of his party."
He was of course referring to President Trump's past sexual comments caught on tape, and Republican Senate candidate and former Chief Justice Roy Moore, who has been accused on multiple occasions of child molestation.
Sen. Franken speaks with pride when recalling his long career in politics, stating that "it's all been worth it" and that he would "do it all over again in a heartbeat." Franken has serving in the Senate since 2009.
CNN's Ashley Killough recalled the Senate floor to be extremely quiet as Sen. Franken spoke, something that's a huge contrast to the usual chaos of the room. Senators Gillibrand, McCaskill, Baldwin, Warren, and Hassan, the firsts to call on Franken to resign, were seen to be intently listening.
Sen. Franken has been accused by six women of inappropriately touching them, allegations of which the Senate Ethics Committee has been looking into.
During his speech, Franken said that he remembers the events differently, but that "all women deserve to be heard." He did not offer an apology to the women who came forward.
CNN's Ashley Killough reports of tears on the Senate floor as Sen. Franken leaves. A few Democrats came up to hug Franken after his speech. Killough describes this as a somber moment, as he was seen hugging his aides, some of which (both men and women) were sniffling or openly sobbing.
He then walked over to the clerks, thanked them, and added "I'll be seeing you," as a reminder that his departure is not immediate. And with that, Senator Al Franken left Capitol Hill at 12:19 PM E.T.
Not too long after his speech, Franken's first accuser, Leeann Tweeden, a California radio morning show anchor who accused the senator of forcibly kissing and groping her., spoke out in regards to his resignation.
"I'm not celebrating his resignation. It's a lose-lose situation," she said in a phone call with CNN. "I'm not celebrating his resignation but we also can't tolerate hypocrisy. We can't have our leaders saying one thing and doing another."
Despite what has transgressed after her decision, as well as other women's, to speak out, Tweeden says that she doesn't regret it.
The decision to appoint a replacement for Franken falls on Minnesota Gov. Mark Dayton's (D) hands. According to a senior Minnesota Democrat close to Dayton, the names running for this position include Democratic Rep. Keith Ellison, Democratic Rep Tim Walz, Lt. Gov. Tina Smith, a former chief of staff to Dayton.
But come the 2018 midterm elections, the Senate seat would be a likely open target for Republicans.
Senate Republican candidate Roy Moore and the accusations made against him have been on the minds of many Senate Democrats after Franken's resignation. Some claim that "It's bad, but not as bad" when comparing Franken's alleged actions to Moore's.
This has caused confusion for many within the Senate, as well as outside. But female senators have been especially keen on reminding everyone that no matter the gravity of the matter, it's never acceptable.
But beyond coming to this conclusion, it's important to act on it (i.e calling on Franken to resign).
As for the comments Franken made during his speech about President Trump's own sexual assault accusations, White House press secretary Sarah Huckabee Sanders said the "President addressed the comments back during the campaign."
"I addressed it several times from here and don't have anything new to add," Huckabee Sanders said.