No Comments
Open Mic Night 2K18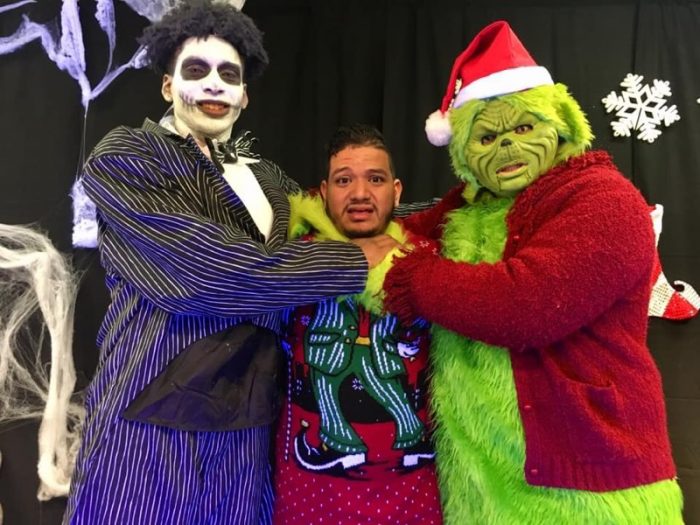 Javier Herquinigo | On 02, Jan 2019
Hudson Catholic held its Nightmare Before Christmas-themed open mic night on December 22nd, 2018, in the cafeteria. It was hosted by senior Moses Garcia and junior Jayden Bell. All participants were dressed in Christmas sweaters and some even wore Halloween costumes. 
Many students came and showcased their talents on stage. There was a range of singing, rapping, poetry, and even comedy. After every two performances, there was also a game that the audience had a chance to participate it.
The show kicked off with a stellar entrance by all of the participants. Garcia and Bell made for an iconic comedic duo throughout the whole production. Garcia was dressed up as the Grinch, and Bell was dressed up as a skeleton. 
The first performance of the night was by Juliette Pangilinan. She sang "Wrapped In Red" by Kelly Clarkson. The audience loved it. It was a perfect performance to kick off the night.
There were many highlights. One was the performance of "Iris" by the Goo Goo Dolls by seniors Savannah Martinez and Joseph Young. Savannah sang eloquently, while Joseph played the guitar.
Another highlight the "Shook Once" freestyle by seniors Tyreek Jenkins and Matthew Nanguy. It had the crowd captivated as they delivered every line.
Senior Sofia Santos' cover of "Figures" by Jessie Reyez also stood out. She sang while playing the guitar at the same time and still nailed every chord perfectly. It had the audience fascinated the whole time.
Last, but not least, junior Sylvan Lalin's comedic performance, "Whose Boat Is This Boat," had everyone laughing throughout the whole thing. His impression of "Donny Trump" was definitely spot on. 
There were also many memorable moments with the audience and the games that were held. The first was the karaoke battle between a man and a woman from the audience. The lady left everyone astonished as she sang like a professional. Meanwhile, the man danced instead of singing, but still tied with his opponent. Another was the Kazoo Game between Max Fernandez and Sylvan Lalin. No one expected kazoo playing to be so entertaining. Lastly, there was the impressions game. Someone in the audience came up and gave an amazing Kermit the Frog impression. It sounded like the real thing.
Overall, it was an amazing and fun night. With 21 performances and 9 audience games, different ones may have resonated with different people. These performances may have been the first of many for some of the performers.