One Comment
Get to Know Some of Hudson Catholic's Student Musicians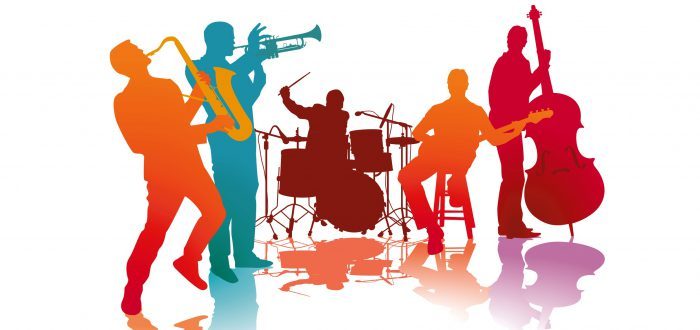 Javier Herquinigo | On 09, Jan 2019
There are so many talented musicians attending Hudson Catholic who go by unnoticed. The Commentator decided to interview some of them to get some better insight into their background in music. Seniors Sofia Santos, Nathaniel Pitao, and Christopher Mansur were interviewed.

TC: How long have you been a musician?

Sofia: I've been playing music since I was 4-ish. I started playing piano at 4, and then I picked up guitar around 9th grade.

Nathaniel: Ever since I was in 4th grade, so [I think] ever since I was like 10.

Christopher: I've been doing music ever since I could remember anything. I've always loved music and [I] still do today.

TC: What instruments do you play, and which was the hardest to learn?

Sofia: Besides the piano and guitar, I also play the ukulele and I know drums, but not too well. I'm like a novice at it. The hardest for some reason was the drums. You use both legs and it uses all the coordination between your legs. I just find drums very impressive.

Nathaniel: I play guitar, bass, drums, piano, and ukulele. I'd say piano was the hardest to learn.

Christopher: I know how to play the piano, guitar, bass, and a bit of drums. The hardest for me is the drums because you need to be extremely quick with it to get good at it. The other instruments weren't so hard because it takes notes to play the instruments as well as chords. Me being talented enough to just hear a song and quickly pick up what key it's on to play along allows me to play the other instruments faster.

TC: Who or what inspired you to get into music?

Sofia: My parents put me into piano classes so it was always kind of ingrained into my life ever since the beginning, but I went on several hiatuses because I lost interest. The classes were too much. Then, when I started listening to more music around high school, I decided to continue pursuing the guitar and other instruments. Oh and my dad plays guitar so he was definitely [an inspiration] too.

Nathaniel: My dad inspired me to get into it. I saw him playing once and I was like, "I want to be like that."
Christopher: My mom easily inspired me. She's such a great singer. I wanted to grow up singing as well.

TC: What is your favorite memory that has to do with music?

Sofia: My favorite memory would have to be this one time in my old school when I was playing the piano and I thought no one was listening and it turns out that there were people behind me who I didn't see and they all just started clapping. It's a very simple memory, but it's one that stuck with me because it was very unexpected. I really appreciated the support from the people in my old school.

Nathaniel: Me playing for two concerts. It was a whole set list of like 20-30 songs each.

Christopher: My favorite memory was when I first played for my church. It was my first time playing piano and singing in front of a crowd, and I was about 8 years old, if not younger.

TC: What has been your proudest musical achievement?

Sofia: I'd say it was a gig I had when I was with my old band. It was our very first performance together during a school event. Even though it might seem very simple, it meant a lot to me because I had stage fright, so it made me very happy after it. It was my first good experience on stage. I was a pianist and second guitarist in the band. Our band name was 'Offline.' They were a really big part of my life.

Nathaniel: Me playing for concerts, like I said before. It took a lot of preparation. I only had one week to prepare for the first concert, and then for the second concert, I had two months.

Christopher: My proudest music achievement was to be named the music director for my church as of last year, as well as in middle school where I was presented the music award for being the best musician.

TC: How did you learn to play instruments/sing?

Sofia: I used to be classically trained on the piano. I also had some guitar lessons that weren't that good, so I dropped them. Right now I've just been self-teaching. YouTube videos are very helpful.
Nathaniel: For the instruments, I was all self taught like through YouTube videos and the internet. Then for singing, I started by self teaching myself to sing for like a year, and then after that I enrolled myself into singing lessons.

Christopher: I was always gifted with the ability to sing. I give a lot of credit not only to my parents, but to my mentor, Cleber, who has been my teacher for the last 10 years. He taught me everything.

TC: Who would be your dream collaboration?

Sofia: The Arctic Monkeys singer Alex Turner. I would love to work with him because I've listened to all of his albums and I love them. I've seen his style and his topics change throughout each of them, and I find his mindset so intriguing. Even just to be able to talk to him would be fine. Being able to make a song with him would be beyond anything.

Nathaniel: Either Bruno Mars or Joji.

Christopher: If I could, I would collaborate with Billie Eilish. That wouldn't be bad…

TC: Do you have any last words for our readers?

Sofia: I hope this school steps it up in the music region some day. I hope they implement it because it's a vital part [of education], and there should be some aspect of music in the education here. It should be integrated into it. Even something simple would be good.

Nathaniel: If you have an interest in music, you should try singing or leaning to play instruments because you may never know what talents you may like a lot in the future, so it would be a great benefit for you. Music is just fun to play.

Christopher: I just want to say, Nathaniel is the best guitar player in the school. Don't @ me though.