No Comments
17 New NHS Members Make Hudson Proud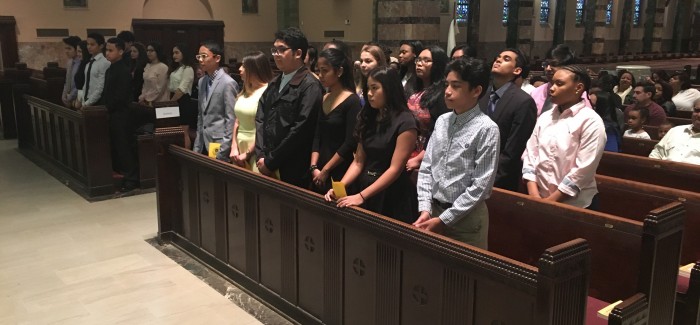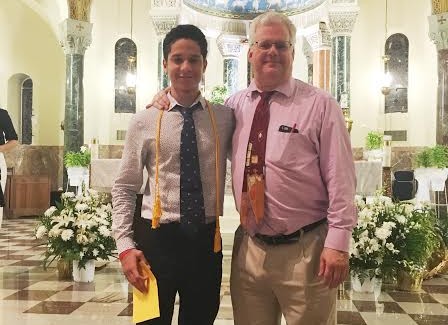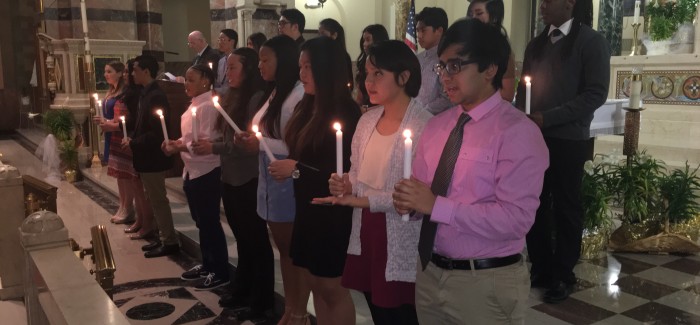 Tiana Anton | On 21, Apr 2016
Hudson Catholic's National Honor Society Induction Ceremony was held on Thursday, April 14, at St. Aedan's Church.
The National Honor Society is known for recognizing students who embody all it takes to rise above their peers and act as true leaders. The members were elected based on their merits in the areas of scholarship, character, leadership, and service. These young men and women exemplify these qualities both inside and outside the hallowed halls of Hudson Catholic Regional High School.
The induction began with the traditional candle-lighting ceremony, followed by the presentation of cords. As Mr. Terrence Matthews proudly called their names, each senior member was "corded" by a faculty member of his or her choosing. Mr. Frank McGady presented cords to Pietro Bazan-McKenzie, while Mrs. Debra Lucas-McGady did the same for Nalani DeJesus and Janoa Watson. Mr. Anthony Marmora was chosen to present cords to Aliahna Moye-Herwig and Janelle Pichardo. Mr. Ciaron O'Hara was selected to present cords to Amber Ferrara, while Mr. Anthony Bongiorno corded Saharath Vichkulwrapan, and Mrs. Michaela Vaccari corded Elena Rodriguez. Mr. Frank McGady also presented cords to Richmond Alvaro and Edgar Guallpa on behalf of Mr. Timothy Eigo.
Following in the footsteps of the nine seniors admitted last year, 17 juniors were inducted as new members.
The NHS Induction Ceremony was beautifully organized and orchestrated by Mrs. Debra Lucas-McGady.
Congratulations to the Class of 2017 NHS Members!
Ryan Banaag
Monika Bekhit
Paul Domingo
Sharron Fernandez
Kayla Gomez
Matthew Hernandez
Khristina Lizaso
Jharid Morrison
Dana Picinich
Kayla Santos
Daniel Saroop
Tania Scott
Nautica Smith
Kimora Street
Carina Suarez
Daniela Tixi
Rehan Zaib