No Comments
Rising Juniors Attending Space Camp!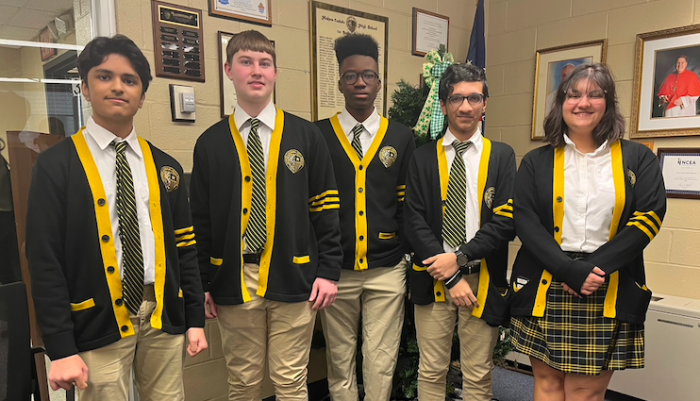 Diego Hernandez | On 14, Jun 2023
This year NASA's Space Camp in Huntsville, Alabama has provided 5 rising Juniors with full scholarships and airfare coverage to their world-class educational program! These lucky students include Ijlal Imran, Owen Parillo, Henil Patel, Brian Sylva, and Sophia Sanchez.

Located on the grounds of the U.S. Space & Rocket Center museum near NASA's Marshall Space Flight Center, this program is based on NASA's own astronaut training, focusing on teaching leadership and teamwork skills. Besides focusing on these skills, Space Camp will include a long list of activities that allow students to study not only space exploration, but aviation and robotics as well.

The Commentator spoke with some of the students who will be attending to see what most excited them about this program.

Sophia Sanchez shared, "I applied to this program because of its multitude of opportunities such as access to simulators, scuba diving, and more."

What she's referring to is the students' opportunity to experience natural buoyancy while SCUBA diving in their Underwater Astronaut Trainer. Just a few of the other exciting activities that NASA has planned include designing, building and launching a team rocket, flying jet aircraft simulators, constructing a heat shield, and building a Rover.

"The program will provide us with hands-on experience on what being an astronaut is like," says Henil Patel, "It'll serve as a useful pillar in the future when searching for potential careers."

The week-long program will take place this Summer from July 9th to July 14 and allows students to earn one credit hour of freshman-level general science from the University of Alabama in Huntsville in this college-accredited program. Besides all of the fun activities and future opportunities, these students are also looking forward to gaining more knowledge of space, furthering their interest in science as a whole, and of course, forming new friendships with attendees from all 50 states, U.S. territories and more than 150 foreign countries.