No Comments
2023 Hudson Catholic Quiz Bowl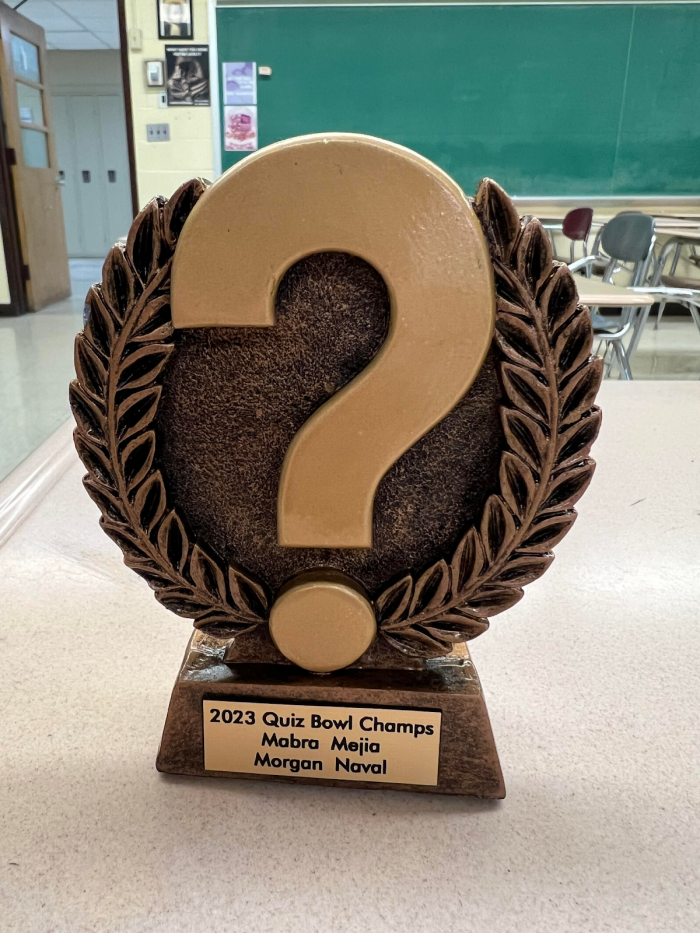 Peyton Morgan | On 25, May 2023
What is the Quiz Bowl?
Hudson Catholic's newest blood-pumping showstopper, the school subject trivia-filled Quizbowl, was established by the Head of the History Department & History Teacher, Mr. Joseph Cook. Every grade level had homerooms participate against one another for a spot representing their grade level in the Championship Match, where each grade level goes head to head. The matches consist of Three Rounds, with the third round imitating a "Final Jeopardy," where you write your answers down and bet on the points you have.

The Teams
12th Grade: Fady Tadrous, Myra Vilomar, Ryan Wilde, Brandon Whitmore (filling in for Kamau Watkins)
11th Grade: John Mabra, Alex Mejia, Peyton Morgan, Michael Naval
10th Grade: Jonathan Young, Ahmad Torrence, Bryanna Valle, Ariana Wharton
9th Grade: Kharington Schwindt, Alyssia Robinson, Eric Powell, Greg Reyes
The Junior's Struggle
The days before the Junior Homeroom matchup, Mr. Yantin's Room 215 struggled to get a team together. Fellow teammate Jerald Mirandilla had to step out for personal reasons. When all hope was lost, Alex Meija stepped up and joined the team of John Mabra, Peyton Morgan, and Michael Naval.

"We were desperate for anyone at that point. We needed someone specifically for the science and arts category, and Jerald Mirandilla had to back out at the last second. We were lucky Alex came through last second," Michael Naval expresses gratefully.

In the end, Room 215 won by a landslide. While the other Junior homerooms lost, they ultimately wanted their grade level to win the Championship match with a burning passion. This was due to the typical personal rivalry between Juniors & Seniors to win the tag day.

The Championship Match
Two days later, the Championship match during the Spring Pep Rally. Every grade was in the gymnasium crowding the room with cheers for their grade level or booing the others. John Mabra was overwhelmed by the crowds, anxious by everyone around him.

The Quiz Bowl took off, but by the end of the first and second rounds, Juniors were ahead by a landslide. During the final round, the Juniors skyrocketed with 16 points against the Seniors with 10 points. We ended up betting 5 points to be safe.

The Scandal
Once we picked the category for the final question, every striving student answered to the best of their ability. Anxious spectators in the crowd, including teachers, had noticed something off with the Seniors. They were caught cheating by means of getting answers from outside sources.

As a result of the shortcomings of the Senior team, they were disqualified. Because of this turn of events, the Junior team took home the trophy and won the Quizbowl with ease. After the pep rally, everyone surrounded the MVP John Mabra for his glorious win and cheered him on. Alex & I pointed at each other and chest-bumped one another. All in all, this win is thanks to John Mabra. He is the man, the myth, the legend.