No Comments
Hudson Catholic Fall College Fair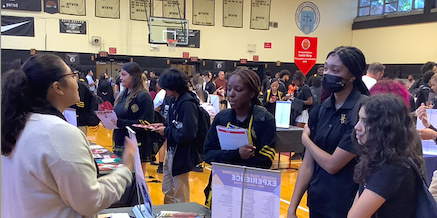 Ian Quinones | On 27, Oct 2022
Earlier this semester a sense of anticipation filled the gym at our September College fair. Students walked through rows of tables, each highlighting a specific college. Here Hudson Catholic's seniors were given the chance to have some of their burning questions answered by representatives of the colleges themselves. While these students are still just at the start of their final year at Hudson Catholic, the time to decide what comes next is ticking! Luckily, college fairs at Hudson are time-saving opportunities for students and parents to acquire information from a variety of schools and institutions in just one day.

"Are you test-optional?" was a question heard at a majority, if not all, of the college booths. Other important questions posed by students regarded specific degree requirements and the application procedure. The representatives were more than happy to provide a wealth of information.

"Being able to bring a slice of campus to high schools around the nation provides students an incredible opportunity," says Christian Berrigan, Associate Director of Undergraduate Admissions at Saint Peter's University, "It provides a safe space to ask questions that might be specific to their situation, and chat one-on-one with a representative of many different institutions."

Many seniors left the gym that day with pamphlets and fact sheets on entrance requirements, application deadlines, campus life, and much more. Some even brought home some college swag from places they were particularly excited about. Overall, the experience was highly instructive and most students felt they gained much-needed knowledge concerning their future.

While the college fair offered important information on a majority of tri-state colleges, students seeking answers concerning schools that are further away have the opportunity to work directly with our guidance office.

"Those [schools] that could not attend the fair booked an individual visit on Naviance," says Ms. Arthurs, one of Hudson Catholic's guidance counselors, "Seniors should continue to check Naviance to see what schools are scheduled for an individual visit and register in advance."

A full list of the schools present at our September college fair can be found below.

Saint Peter's University, NJ
Wager College, NY
Moravian University, PA
Drew University, NJ
William Paterson University, NJ
Montclair State University, NJ
Centenary University, NJ
Fairleigh Dickinson University, NJ
Saint Elizabeth University, NJ
Binghamton University, NY
Stockton University, NJ
Dominican University, NY
University of New Haven, CT
University of Scranton, PA
Cabrini University, PA
Sacred Heart University, CT
Manhattan College, NY
St. John's University, NY
Chestnut Hill University, PA
Immaculata University, PA
Bloomfield College, NJ
Rider University, NJ
DeSales University, PA
Albertus Magnus College, CT
Rutger's University, NJ
University of Rhode Island, RI
Mount Saint Mary College, NY
Union College, NJ