No Comments
Hawk Spotlight: Xochilt Turjian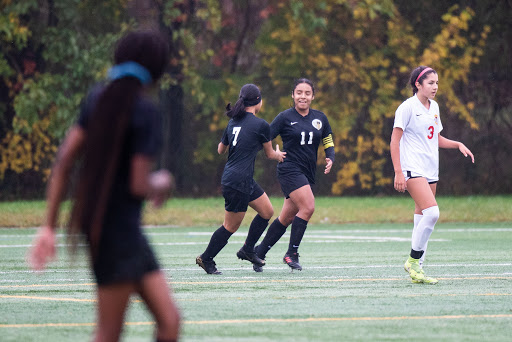 Sofia Gellada | On 24, Nov 2020
You may have already heard of Xochilt Turijan, the 16-year-old Hudon Catholic junior who was recently recognized as one of New Jersey's top scorers.
Turijan recently finished her third soccer season at Hudson with an astonishing 30 goals. She was also able to score 3 goals in Hudson Catholic's first ever girls soccer state game against St. Dominic Academy where the Hawks won with a final score of 5-1. Adding that to her 23 goals in freshman year and 18 goals in sophomore year, Turijan is more than halfway to her goal of being the first soccer player in Hudson history to score 100 goals.
When asked about how she felt about being recognized as one of NJ's top scorers, Turijan expressed surprise.
"I didn't expect it to happen," Turijan said. "I thought that I did not score as much as I wanted to in my sophomore year because I didn't make any hat tricks."
This year there were some changes in the girl's soccer team with Turijan being moved from center midfielder to forward. Turijan had little difficulty adjusting to her new position on the team as she also plays forward on her travel team, Bayonne Lightning. 
One pre-game ritual that she shares with the team is getting into a circle and praying. Turijan can be seen making the sign of the cross right before she steps on the field and right after making a score.
She doesn't go into a game with a specific number of goals that she aims to score. "It doesn't matter if I score or someone else scores," Turian said. "The goal is for the team to win."
It was her dad who first introduced her to the sport. "He wanted us [my siblings and I] to get outside the house and be active instead of just sitting inside and watching television," Turijan recalled fondly.
She spends an hour and thirty minutes to two hours at Hudson Soccer practice and two hours for her Bayonne travel team every day. However, she did admit that there are days when she is unable to go to the Bayonne Lightning practices due to how late she gets out of school and the amount of homework she has. 
Not only is she an amazing soccer player, but Turijan is also a student in Hudson Catholic's Dual Enrollment program.
With the long practice hours and schoolwork on top of that, there are days when it is difficult to keep working hard. When she is completely drained and unmotivated, Turijan said that "[her] biggest supporters are [her] parents."
She continued, "I hope to obtain a Division 1 soccer scholarship and play soccer in college. With the support of my family … I am able to persevere through the toughest days."
Turijan said that if she were to give her younger self some advice, she would encourage herself and say tell herself to keep cool and confident.
"It is okay to be nervous before a game," she said. "Be yourself. There are always challenges, but believe in yourself and you can overcome them."