No Comments
Season Preview: Girls Volleyball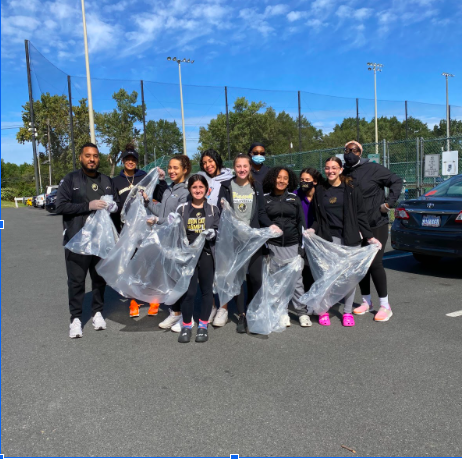 Sophia Wintonick | On 01, Mar 2021
Skill, passion, heart.
Those three things are what a championship team needs to have a winning season. Hudson Catholic Girls Volleyball is a 5 time winning County Championship Team, as well as a 8 time winning Division Championship Team.
They have also appeared at 4 State Sectional Championships, and have also been to 2 State Championships as well. Hudson Catholic Volleyball started 11 years ago, and this upcoming March 1st will mark the 12th season. The Girls Volleyball Team has been run by Coach Fernando Colon since Day 1.
"We had no volleyballs our first practice ever at Hudson Catholic," Colon said. "I used to have to tape up lines on the floor before each practice and each home game."
Coach Colon has a wide variety of friends and family in the Volleyball community, and has become a target for the well skilled players and teams he has had in the past. This year is not going to be different. Senior Cristal Paulino, who will be one of the star players to watch this season, is very excited about tryouts and the season starting in early March.
"I am super excited about this team and to be given the opportunity to play for my senior year!" Paulino stated. "I believe this team has a lot of potential to go far this season. I am definitely looking forward to playing with my girls, and I believe that this year we are going to put all our hard work and dedication into winning a state and county championship."
Last year, the Hudson Catholic Girls Volleyball Team went 29-8 in their season and ended in their County Conference 12-0, beating Secaucus in the HCIAL Championship 25-11, 25-20. They also lost to Dwight-Englewood, in the Quarterfinal Round in the NJSIAA Tournament, 25-23, 25-20. At the time, Drew Leonardis was the team's Libero, and as a freshman she had a big role on the team.
"Losing to Dwight Englewood was one of the hardest losses I've ever experienced," Leonardis stated. "To be a part of such a strong team, expected to take it all and to lose in the state quarterfinals ending the senior's careers was so devastating. I was angry, sad, mad, and in pain as I was playing injured during this time making it even harder. "
When asked about what Leonardis had learned from this experience, she said her answer with ease.
"I learned that at any given time it can all get taken away from you even when it shouldn't." Leonardis exclaimed. "It definitely crushed our spirits a little bit, but knowing that we were going to bounce back better then last season kept myself and the team going."
Be sure to check out the Lady Hawks this upcoming season!