No Comments
Bader Late Than Never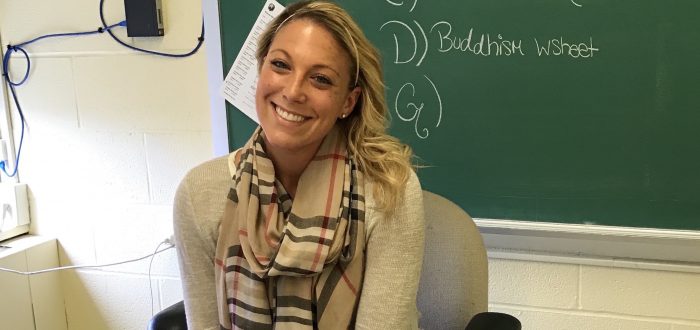 Mathew Botros | On 27, Sep 2016
Meet Ms. Meredith Bader! A history teacher and assistant girls soccer coach, she's made her new home in room 325. On September 22, The Commentator spoke with Ms. Bader about Hudson Catholic, its students, and much, much more.
When asked about why she decided to come to Hudson, Bader respectfully detailed why she decided to join the family.
"Well, I have had a Catholic background my whole life. I went to Catholic grammar school, Catholic high school, and Catholic college," Bader said. "Before this I taught at a Catholic grammar school … and I really just believe in not only educating, but also teaching morals and faith."
When you go into her classroom, you are immediately greeted by a "Today in History" message on her blackboard. When asked about the significance of this, Bader explained:
"Every day has significant meaning, whether something is happening recently that I might put up, just on the news, or something that happened during World War I or World War II. It's pretty neat because you don't realize what day it is and I kind of give you a chance to step back and look at it."
And what is Ms. Bader's favorite moment in history?
"The Berlin wall coming down," she said.
Meet Ms. Bader in room 325!