No Comments
Mr. Garland's Past and Future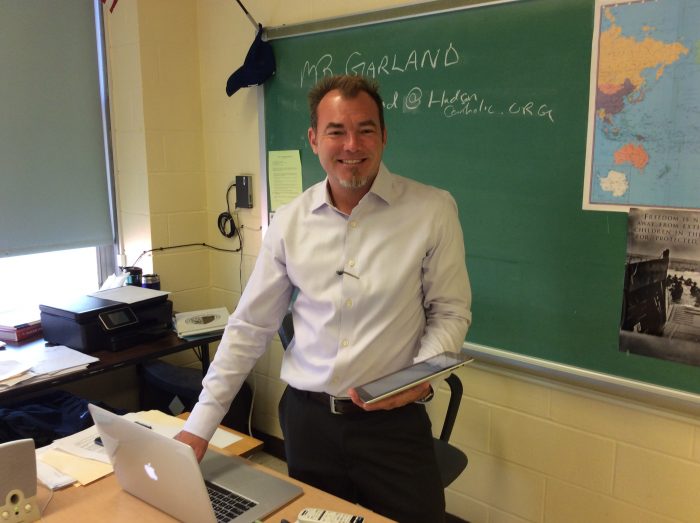 Jhette Lafond-Favieres and Alisha Parker | On 15, Oct 2016
This school year we welcomed 11 new teachers to our Hawk family. Among the new faculty members is Mr. Ryan Garland.
Mr. Garland does not only come to Hudson Catholic as the new history teacher taking over Mr. Eigo's previous room, but also as the new girls' soccer coach.
Before Mr. Garland's days as a teacher he had a pretty exciting life. When asked about what he was doing before his teaching days, he replied to The Commentator with what had to be one of the most interesting backstories told by a teacher from Hudson yet.
"I was a police officer in Nashville [Tennessee], and then from there I was a special agent for the Federal Air Marshal service, and then from being a special agent in the Air Marshal service I was assigned to work undercover in Israel for 4 years, and after that I was assigned to the FBI joint terrorism task force for 5 or 6 years."
Clearly Mr. Garland has had a fairly dangerous and exciting past, but when asked by The Commentator about what brought him to Hudson Catholic his answer was fairly simple.
"Well, the opportunity to work with social studies classes and girls' soccer was really important to me."
It's safe to say that the dangers of the Middle East and the excitement of the FBI aren't his main focus anymore. He's putting all of his focus into the girls' soccer team and his history classes, and is scoring goals in both of those fields.