One Comment
The Man Behind The Commentator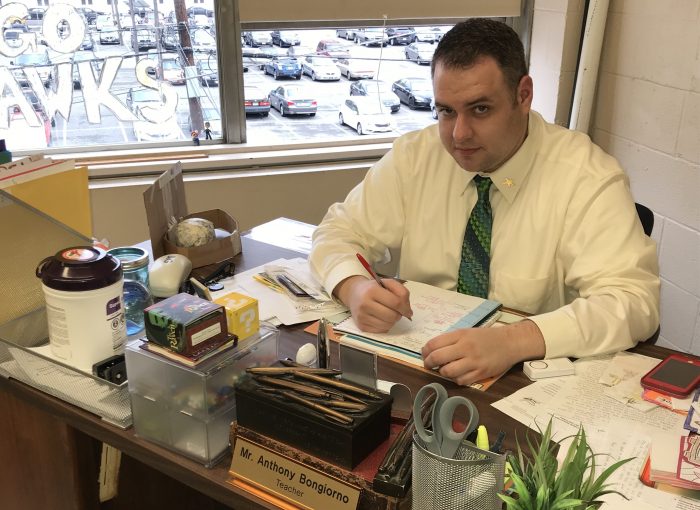 Reggienal Gonzales | On 01, Dec 2017
Everyone (hopefully) reads the articles published on The Commentator, but do you know about the man behind the scenes running the press? Meet Mr. Anthony Bongiorno! He has been the chIef advisor for The Commentator for the past three years. He is also Hudson Catholic's very own British Literature, Journalism, and Creative Writing teacher.
Before taking on the job of Commentator advisor, Mr. Bongiorno was a very busy person. His very first job was at Burger King when he was a teenager in high school. Later in his life, he became a substitute teacher and a restaurant waiter, all while attending graduate school for his master's degree in Education.
"[During that time,] I really learned the value of hard work and how to multitask, which is a big part of teaching," Bongiorno said.
Bongiorno was offered the advisor title for The Commentator while being interviewed by Mr. Garibell for a teaching position at Hudson Catholic. Bongiorno had college journalism on his resume, so Garibell thought it would be a perfect opportunity to bring The Commentator back to Hudson Catholic after a two-year hiatus.
The Commentator has changed a lot according to Bongiorno.
"I didn't have much content in the beginning, and the content that I was getting was weaker. As the years have gone on, I've gotten better, student interest has gone up, and the quality of the writing has gotten better and better."
The Commentator then asked Bongiorno what he would tell his past self prior to becoming a teacher at Hudson Catholic.
"The first thing I would tell myself prior to coming to Hudson would be that high school is much different from middle school, so to be prepared mentally for how it is going to be," Bongiorno said, referring to the six years he spent as a middle school teacher prior to becoming a Hawk.
"As for The Commentator, I would tell myself to focus more on students writing their own pieces rather than teaching them about the history of journalism, as they learn most by doing," Bongiorno said.
The Commentator then asked Bongiorno what he felt is still missing in The Commentator.
"We are completely missing an entertainment section. Nobody is covering any TV, movies, or music reviews!" Bongiorno feels adding these topics to would make the school newspaper complete.
Bongiorno has changed The Commentator for the better in the last couple of years, and we can't wait to see what he has in store for the years to come.