No Comments
BTS: The K-Pop Band Taking Over The World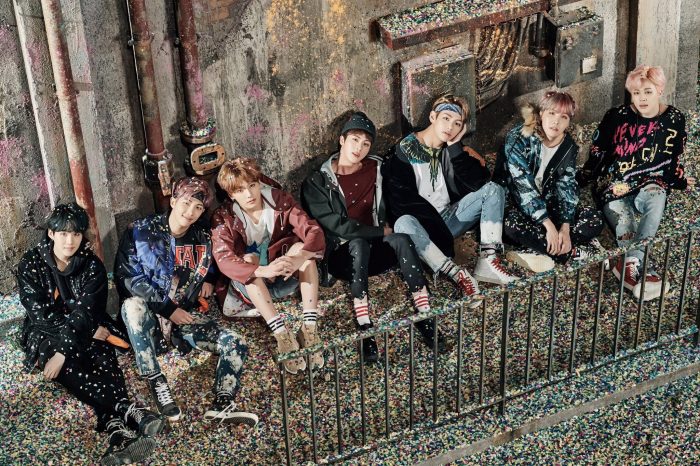 Brandi Davis | On 14, Dec 2017
Recently, korean pop sensation BTS has been gaining worldwide success. They've been having an amazing year thus far. They've sold out concerts globally, received a Billboard Music award, and performed on the American Music Awards' stage. They are currently working with UNICEF on a campaign to end violence. The band appeared on some of America's biggest television talk shows. They've also collaborated with The Chainsmokers,  DJ Steve Aoki, and Desiigner.
BTS also known as Bangtan Boys or Beyond The Scene, is a seven member kpop band consisting of 3 rappers and 4 vocalists.  The members' names are Jin, Suga, J-Hope, RM, Jimin, V, and Jungkook. The K-Pop band debuted on June 12, 2013 with music that surrounded the subjects of mental health, rebelling against societal norms, the transition from being a child to becoming an adult, loving yourself, relationships, and heartbreak. Their fans are known as the "ARMY" because they protect and love each member dearly. BTS has a huge following on social media consisting of 10.8 million followers on Twitter and 7.2 million followers on Instagram. On Twitter, the group has been the number one trending worldwide hashtag several times.
February 2017 marked the beginning of their tour entitled "The 2017 BTS Live Trilogy Episode III: The Wings Tour" in which they would perform in multiple countries. The tour began in their home country of South Korea. Chile, Brazil, the United States, Australia, the Philippines, Indonesia, Hong Kong, Japan, Taiwan, Macau, and Thailand were the next countries to follow suit. In total 550,000 people were in attendance at their concerts. In the United States, the Bangtan Boys performed at the Prudential Center in Newark, NJ on March 23rd and the following day, March 24th. They also performed on March 29 at the Allstate Center located in Chicago, IL. The last stop of the American leg of their tour was on April 1st and 2nd  at the Honda Center of Anaheim, CA.
The 2017 Billboard Music Awards took place at the T-Mobile Arena in Las Vegas, NV on May 21. Beyond the Scene won the Top Social Artist Award  for having the strongest presence on social media. The award was presented by Logan Paul and Lindsey Stirling. They beat Justin Bieber, Selena Gomez, Ariana Grande, and Shawn Mendes who were also nominated in this category. BTS broke Justin Bieber's streak of winning this award.
On Nov. 19, 2017, the American Music Awards took place in Los Angeles at the Microsoft Theater. They were announced by their friends The Chainsmokers who collaborated with them on one of the songs featured on their album. They performed their hit song, "DNA" in front of all the artists , celebrities, and fans present in the theater. Fans sang along to the song, cheered, and screamed their fanchants. BTS was applauded after their performance marking their official American television debut.
On Nov. 1, 2017, it was announced that BTS would be collaborating with UNICEF(The United Nations Children's Fund). They signed a two year partnership agreement with UNICEF to campaign against violence and end violence for children and teenagers.
On Nov. 27, 2017, The Ellen Degeneres Show had BTS perform their songs "Mic Drop"  the remix version by American DJ Steve Aoki and "DNA." They were interviewed by Ellen in a studio filled with ARMYs and received gifts from her after it was over.
On Nov. 29, 2017 BTS did a taping for Jimmy Kimmel Live! where they held a mini concert. Their concert became part of the Mercedes-Benz Concert Series. Beyond the Scene performed their songs entitled "Go Go",  "Save Me", "I Need U", "Fire", "Mic Drop" (remix), and "Blood, Sweat, and Tears." The band met parents and fans prior to the concert.
On Nov. 30, 2017 BTS appeared on The Late Late Show with James Corden. Tickets sold out fast when fans found out the Bangtan Boys would be appearing on this late night show. Beyond the Scene played the Flinch game, a game in which guest celebrities stand behind glass and a fruit or vegetable is shot at them from a canon with Corden's face on it and they must try their best not to flinch. They once again performed "DNA" and it has been reported by staff members that the screaming heard during the taping was "louder" than when One Direction made their appearance on the show.
BTS has had a few collaborations with American artist this past year. Their recent album called, "Love Yourself: Her" has a song produced by the Chainsmokers. It's called " Best of Me," a song about how a girl has the "best version" of themselves through each day and every hardship they face. They simply don't want the girl to leave them. This song is loved by korean and international ARMYs. Last month, the Bangtan Boys collaborated with DJ Steve Aoki and rapper Desiigner to create a remix of their song, "Mic Drop." It has a heavy, hard hitting beat infused with English lyrics. There are two remix versions of the song, one with and without Desiigner. Beyond the Scene ranked 28th in the Billboard Music Hot 100 with this song and are the first K-Pop band to do so. There are currently rumors swarming that they signed with an American label, but they have yet to be confirmed.
BTS has now returned to South Korea to rest up from their busy schedules and they plan to visit more countries very soon and to give it their all.
"We visited so many places around the world and received very warm welcomes. We'll be in your country soon next year, so let's fly like 2017 again. We love you, ARMY! Thank you so much!"