No Comments
Legal in 35 States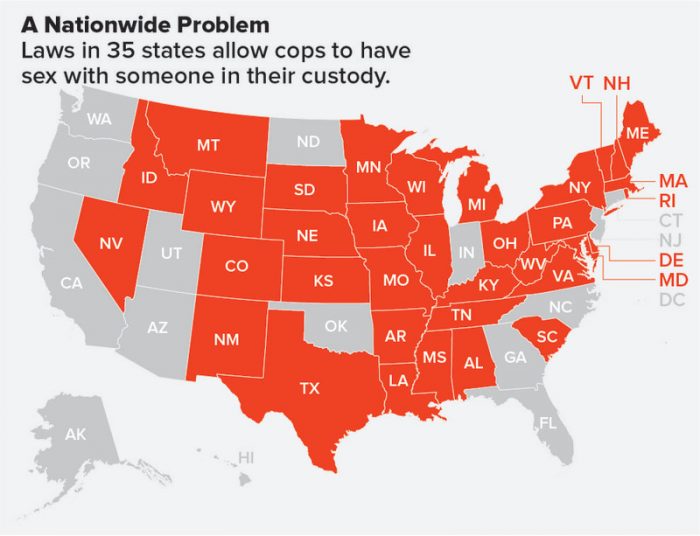 Brandi Davis | On 11, Feb 2018
Currently in the United States it is legal for police officers to have sex with someone in their custody in 35 of 50 states. These states include New York, Texas, Idaho, Colorado, Maine, and Illinois, just to name a few. These 35 states make up 70% of the country, more than half the number of states in our country. The 15 other states, including The Commentator's home state of New Jersey, have made this behavior illegal.
This law raises many flags, mainly for women, for the following reasons: 1.) This is a legal act 2.) This disgusting act is committed by people who have authority 3.) Citizens are supposed to feel protected and safe around police officers 4.) Officers could rape a person and simply say it was consensual 5.) If charges were filed, the victim could be harassed into dropping charges or the charges may be dropped because the officer claims it was consensual.
One very important question comes to mind. How can someone who is arrested and in handcuffs give their complete consent to have sexual relations with a cop? One case brought to light the issues pertaining to this particular law.
On September 15, 2017, an 18-year-old girl named Anna Chambers was raped by 2 on duty plainclothes officers. She was hanging out with 2 of her male friends in their car when officers Richard Hall and Edward Martins pulled them over. They inspected the car and found drugs. Her male friends were free to go, but Chambers was arrested and placed in the back of their van.
Chambers alleges that instead of driving to the police station, Hall and Martins drove to a nearby Chipotle parking lot where they each "took turns" having her perform oral sex upon them and raping her. As soon as the traumatic event was over, she went to a hospital and reported what happened to her. A rape kit was done on her in the hospital.
New York City Councilman Mark Treyger is currently drafting a bill to prevent situations like this from ever happening again. This bill would make having sexual relations with a police officer while in custody a misdemeanor. Treyger has made plans to then make it a felony offense with the approval of state legislators.
This is a start in making progress, but will the other 34 states follow suit?