No Comments
Nikki Haley's Unexpected Resignation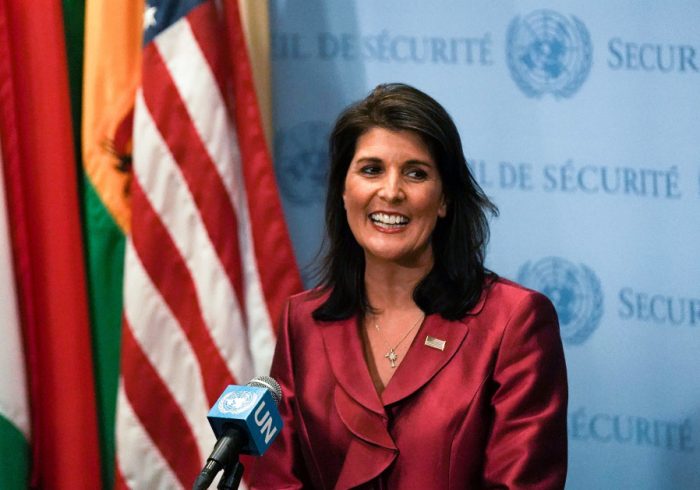 Sofie Alexander | On 28, Oct 2018
Nikki Haley, the United States Ambassador to the United Nations, announced her resignation from her position with President Donald Trump on October 9, 2018. A press conference was held in the White House, D.C, that Tuesday morning, in which President Trump announced that Haley was resigning and said that she is expected to step down by the end of the year. President Trump stated in his press conference that Haley has been talking about taking a "break" since the beginning of the year, while outside sources said she made this decision a week prior to her announcement without warning.
There is some controversy surrounding the reason why Haley is resigning because her timing is extremely unexpected and the public was informed of this change over the news. Haley's decision is questionable especially since her resignation comes four weeks before the 2018 Midterm elections, where there is possible hope for the Democrats to have the majority in Congress again.
There is a lot of speculation as to why Haley resigned from her position. Some believe that she wants time out of politics. On the contrary, some people presume that she wants to leave the Trump administration. Sources state that she is hopeful that President Trump will not win his reelection in 2020, therefore the sooner she is out of the Trump administration, the better for her reputation. With all these theories, Haley has been keen on avoiding the question, but with time there should be more light to be shed on the subject.
President Trump has not said who will replace Haley at the end of the year. When asked if he was going to appoint his daughter, Ivanka Trump, he only said, "She would make a great ambassador."
As we approach the end of the year, there will definitely be a choice to be made on who will be appointed the next UN Ambassador for the United States.