No Comments
Meet Ms. Hennessey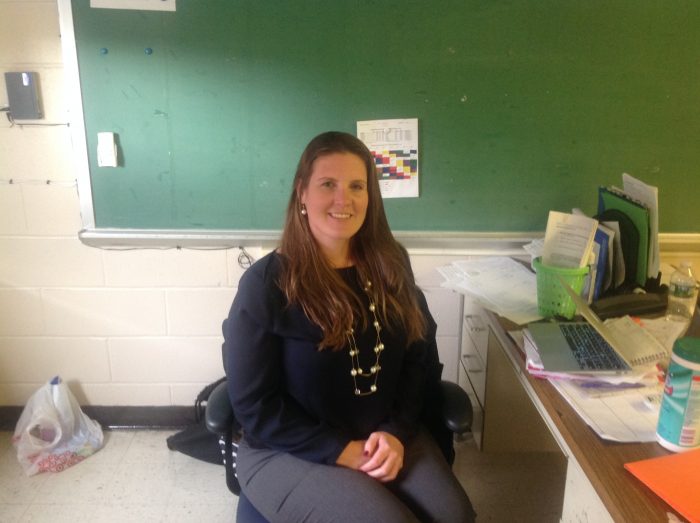 Christian Dumol | On 15, Nov 2016
Meet Ms. Suzanne Hennessey! Last week, The Commentator took the opportunity to speak with Hudson Catholic's newest geometry teacher.
As an alumna of St. Peter's University in Jersey City, Ms. Hennessey has taught at several schools, including Bishop Ahr High School, Edison, and Holmdel High School, Holmdel.
When asked why she chose to teach math, Hennessey explained, "It always came easily to me. I actually really wanted to do something in sports, but St. Peter's didn't have a major for that so I decided I wanted to go into education. I wanted to work with kids and I ended up concentrating in math and secondary education."
Undoubtedly, Ms. Hennessey's stronghold was mathematics, and when asked about her favorite math subject, she replied without hesitating: "Geometry!"
However, not all people do well in math. Ms. Hennessey advised, "Just work hard even though at times it might get a little harder. Just don't give up, because it's rewarding in the end."
Since Ms. Hennesey has been teaching for a while, she was asked about her favorite part of teaching. "I guess just working with kids with different levels, ability, and backgrounds," she said.
What above her biggest pet peeve? "That's a hard one," Hennessey responded. "I guess my least favorite part would probably be just the work that goes on even after school hours." It's a good thing she didn't name this reporter as her pet peeve!
But enough with math and school! When it comes to something surprising that students will probably not know about our new teacher, Ms. Hennessey shared, "I played college softball. In fact, I had the opportunity to play overseas in Italy, and last spring I also had the opportunity to go visit Hong Kong."
When it comes to her personally, Ms. Hennessey was asked on how she would describe herself in one word. She replied, "I think I'm fair."
Lastly, Ms. Hennessey was asked why she decided to choose Hudson Catholic, and she explained enthusiastically. "I enjoyed the Jersey City area and my family is from Jersey City originally. Coming back and going to school in Jersey City, and then just coming back again to the city life is a great thing for me. I wanted a little change from the suburban life."
You can meet Ms. Hennessey in room 218!